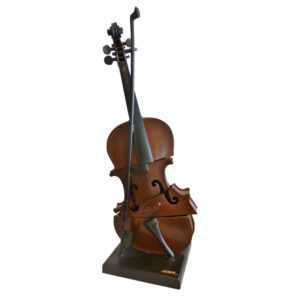 WHAT MICHEL ESTADES SAYS:
Arman is a multifaceted painter, visual artist and sculptor, famed for his "Accumulations". He was one of the first artists to use manufactured objects in his work in response to the emerging Pop Art movement, as a criticism of the consumer society and mass production.
Arman: his natural flair for art
Arman, born Armand Fernandez, was born on November 17, 1928, in Nice. He is a Franco-American artist known for his collection of all kinds of objects.
Arman is a painter, sculptor, and a plastician. He discovered art at a very young age. His father, an antique dealer of Spanish origin, art, and music lover made him discover painting and violin from a very young age.
A brilliant student, Arman started painting when he was 10 years old. He was also passionate about chess. In 1946, he eventually enrolled in the school of Decorative Arts in Nice, his hometown.
His passion for philosophy and Far Eastern art led him to the Ecole du Louvre in 1949-1950. There, he obtained two certificates in Art History, specializing in the study of China traditional culture.
From Armand Fernandez to Arman, an artist statement
At the age of 19, Arman met Yves Klein, an artist known for his monochrome blue, and Claude Pascal at the local school of Judo. The 3 friends formed the group Triangle. As artists, they would sign their paintings by their first names alone, in homage to Vincent Van Gogh. Arman will, therefore, used his first name, "Armand." In 1958, on the occasion of an exhibit, the invitation printer forgot the d in "Armand." Arman got his artistic name from this misprint.
Influenced by the works of Kurt Schwitters and Jackson Pollock, he explored the stamping technique and exhibited his first "Cachets" in Paris in 1956.
Arman's first sculptures in 1959 marked a major turning point in his career. Later, the monumental "Accumulations" made him famous.
The artist defines himself as a "showman of objects" he had been collecting since early childhood. Most often, objects like axes, violins, or even cars are melted in Plexiglas.
At that time, he also speculated on the concept of waste, a symbol of the consumer society, and created the first "Poubelles", transparent boxes containing rubbish.
Arman, New Realism, and international recognition.
In 1960, Arman joined forces with Yves Klein, César, Nikki de Saint Phalle, and Christo, among other famous French artists, and founded the "Nouveaux Réalistes" group advocating the use of recycled material.
He introduced rubbish and waste from his friends' trash can into his work. Since 1961, Arman has been exhibiting in New York and all over Europe. In 1972, he became an American citizen while retaining French nationality.
In the 1980s, he invaded nearly a hundred cities' public spaces displaying his monumental work around the world.
Arman. The value of his artworks
Arman. Artwork authentification
Do you own an artwork signed by Arman? This is the first step to authenticate his work. However, the signature does not automatically go hand in hand with validating the work, because a signature can be reproduced as well…
For many artists like Arman who had their works copied, a certificate of authenticity is expected to put their work on sale on the art market and consequently get the best price. An expert specialized in the artist' s work must be the person signing the certificate of authenticity.
Arman. The value of his work
It is not easy to understand how the price of an artist like Arman is made, and the way it does evolve.
Whatever the artistic technique used: painting, sculpture, drawing, lithography… The price range of a work of art can sometimes reach millions of euros, depending on the artist and the mediums of expression used. This is the case for Arman.
It is quite reasonable that a collector and art buyer would be taken aback by such price differences.
So how do you explain the appeal of an artist like Arman? It all depends on the following elements: the artist's notoriety in artistic and media circles (his contribution to art history, his innovation…), the recognition of his work (notably by art experts, gallery owners, cultural institutions…), the sale of his works in major auction houses, the rarity of a work, the date of its execution (some periods of life are more highly rated than others), the materials and techniques used…
Concerning Arman's works, a bronze sculpture can be purchased for between 3,500 and 12,000 euros.
Arman. Artwork estimate.
Art experts or auctioneers will use a database to study the latest selling prices for similar works to determine the price of a sculpture by Arman.
They will take into account a set of precise criteria, such as the dimensions of the work. The larger the artwork, the more expensive it is. It explains why smaller artworks such as lithographs are more affordable.
The theme of the work, the medium – oil canvases, is more expensive, the material that can justify the price of some sculptures, its uniqueness, and its condition all contribute to the evaluation of an artwork, as much as authenticating its signature.
These are among the criteria that will define the value of the work and its price.
Buy or sell an original Arman artwork
Would you like to buy or sell a sculpture by Arman? Here are a few options available for you.
Auction sales are appreciated because they bring you the opportunity to get artworks at a competitive price. They can also be an opportunity to buy lots and series.
However, this process requires a serious commitment on your part.
Private sales between individuals allow for a more muted and confidential transaction with gallery owners and real art experts.
These specialists' expert eye and tailor-made advice will guide you to complete this exceptional purchase.
The Estades Gallery gives you the opportunity to acquire major works by Arman, whether sculptures, prints, drawings, original signed lithographs, or oils on canvas.
Beyond buying and selling art, the gallery offers you its best advice for your art investment, whether you are an enthusiastic amateur or a dedicated collector.
See some examples of works by ARMAN available for sale
See the work of Sculptors and Monumental Art exhibited at the Estades Gallery