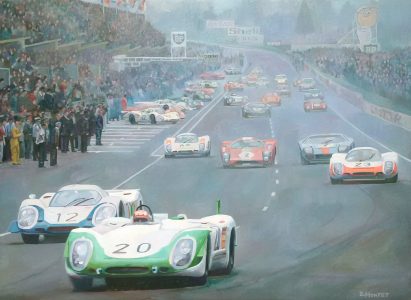 WHAT MICHEL ESTADES SAYS:
A passionate art dealer with 30 years' expertise, Michel Estades loves sharing his knowledge and enthusiasm for his favourite artists. His 4 galleries permanently exhibit many 20th and 21st-century figurative artists, including the world's greatest masters, masters from the Provencal and Lyon schools, modern and contemporary masters and a constant flow of talented new painters and sculptors.
BIOGRAPHY:
Born in 1968 in Paris.
Benoit Montet pursued his classical and artistic education in Paris for 5 years.
Benoît is an artist with a passion for cars. He is committed to recreating the unique atmosphere of the 40s and 50s in America.
His canvases are small visual scripts in which characters and scenery tell us a story. He calls his technique "illusionism" being a mixture of realism and impressionism.
His travels help him understand space and atmospheres.
He credits France and the United States for inspiring the remarkable light of his color palette.
See some examples of works by Benoît MONTET available for sale
See the work of Modern Masters exhibited at the Estades Gallery