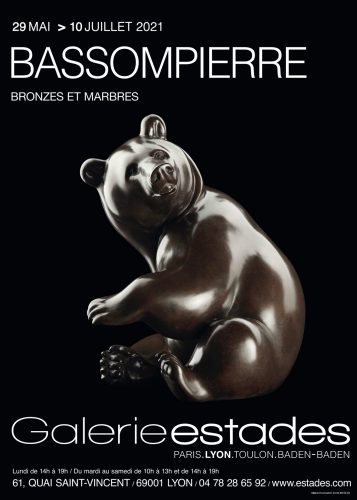 Michel BASSOMPIERRE
Opening Saturday may 29th from 10:00 a.m. to 07:00 p.m. in attendance of the artist
Exceptional opening on Sunday 30th from 02:00 p.m. to 07:00 p.m.
Discover two of his monumental works in the heart of the Grand Hotel Dieu (Cours St Henri and the main entrance of the Intercontinental Hotel from quai Jules Courmont)
In partnership with the Intercontinental Hotel
Born in 1948 and a graduate of sculpture at the School of Fine Arts in Rouen in the studio of René LELEU, this "young artist of 69 years" as he likes to define himself, has had exhibitions in all of the major Parisian salons and won prestigious national awards.
His bronzes and marble from Carrara are in demand by the big international collectors, major exhibitions and museums.
Michel BASSOMPIERRE excels in the study of drawing and shapes. His animals, bears, horses, elephants or gorillas, very softly, allow themselves to be caressed by light. The artist likes playing with shadows to give volume and definition to his work. For him, freedom is first mastering anatomical and technical constraints and, after fifty years of « work and study his work has matured. "I may have been born with a pencil in hand, I was not a musician, I was not an accountant or anything, I was sculptor…" The sculpture is the materialization of a dream. The dream to give life to something that was in his head.»
A MONOGRAPH FOR A JUBILEE – Prefaced by Nicolas HULOT
After fifty years of career, Michel BASSOMPIERRE publishes his first monograph.
That was the time required for his bears gorillas to come out of the shadows and enlightened the extended artwork he created through his life.
The 200 pages offers to follow the artistic journey through an extensive selection of archives, photographies and sketches. A rare and precious breach within the intimacy of the artist who opens the door of his world: An Ode to the savage of intense beauty
61, Quai Saint Vincent, 69001 LYON
May 29, 2021 - July 10, 2021
Tél. : +33 (0)4 78 28 65 92
Mobile : +33 (0)6 64 22 36 93
Monday from 2 p.m. to 7 p.m.
Tuesday to Saturday 10am-1pm and 2pm-7pm
Opening Saturday may 29th from 10:00 a.m. to 07:00 p.m. in attendance of the artist