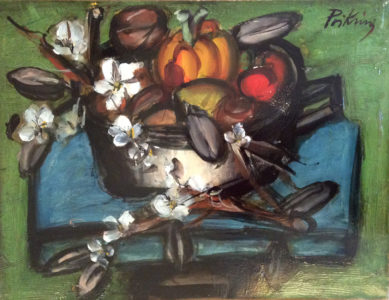 WHAT MICHEL ESTADES SAYS:
A passionate art dealer with 30 years' expertise, Michel Estades loves sharing his knowledge and enthusiasm for his favourite artists. His 4 galleries permanently exhibit many 20th and 21st-century figurative artists, including the world's greatest masters, masters from the Provencal and Lyon schools, modern and contemporary masters and a constant flow of talented new painters and sculptors.
BIOGRAPHY:
Franz Priking was born on August 7, 1929, in Mülheim, Rhineland. His father, a civil servant, introduced him to art at a very early age.
1939-45. During this pivotal period from childhood to adolescence, WWII affected young Franz forever.
1945-47. Franz discovered Expressionism, a movement that had been forbidden and banned by the Nazis. For Priking, it was a real discovery, and he remained faithful to its principles for the rest of his life.
1947. Death of Priking's father.
1948. Franz leaves Mülheim to study at the Bauhaus in Weimar and then at the Academy of Fine Arts in Berlin, where he was a student of Max Pechstein, one of the founders of the movement Die Brücke.
1948-49. Franz meets Bertolt BRECHT, who hosted him for ten months and introduced him to Socialist Realism, which left Franz completely indifferent. He was passionate about a more innovative Art expression.
1950. A short stay in Paris. From there, he went to the South of France and settled temporarily in Villeneuve lès Avignon.
1951. First group exhibit at the Musée Réattu in Arles.
1952. With the money collected from the sale of a portrait, Priking went to Vallauris to meet Picasso. He stayed there for eight months. The Master advised and encouraged him by telling him, "You will be one of your generation's best painters."
Return to the Avignon region in Barbentane.
1955. First, a one-person show at the Galerie MOTTE in Geneva, followed by another one in 1957 at DROUANT-DAVID in Paris.
He continued to exhibit till his death in places like Paris, London, Geneva, Rome, Brussels, Strasbourg, Aix en Provence, Menton, Tokyo, and Sao-Paulo.
1958. Winner of the Prix de la Jeune Peinture in Paris.
1961. Elected member of the International Institute of Arts and Letters of Geneva.
1960. Moves to Oppède in the Luberon near Apt.
1972. Prize of the Mediterranean Union of Modern Art. Leonardo da Vinci Prize.
1979. Franz PRIKING's mysterious death at the age of fifty.
PUBLIC COLLECTIONS
France. M.N.A.M. Paris, Calvet museum in Avignon
Italy. Vatican museum, Rome
Chile. Santiago museum
Mexico. Santa Fe museum
USA. Franz Priking's work can be found in over thirty-nine museums, foundations, and universities.
Berlin 1947. In a Germany still in ruins, what could compel an eighteen-year-old to embark on an artistic education?
He had endured years of hardship as a helpless witness to a terrible war that had ended only two years earlier?
It would be futile to attempt to answer this. The mere fact of asking it though, gives us a glimpse of how much Franz Priking remained conditioned by the dark period that marked his youth.
The first thing that strikes the viewer contemplating his works is its darkness.
Indeed, he could be considered an heir of the German painters of the beginning of the century. Although he studied first at the Bauhaus in Weimar, his work is essentially that of an Expressionist. Their taste for that color is well known. However, in PRIKING's work, the use of black goes far beyond the mere ring in which the Expressionists enclosed the color as lead encloses glass in a stained glass window. Nor his black is used in the light as the Flemish Masters of the 17th century did. Here, black here is an integral part of the work. Even in the finish glaze on his canvases, Priking uses black as a writer would. He is attached to black, like Oedipus, to his mother in an obsessive and conscious liaison.
No light, not even the intense light of the South of France in which he later chose to live and work, erased the darkness of his native Rhineland, nor the darkness of war with its spectacle of restriction and fear. Priking is using painting as an exorcism. For thirty years, he used it to conjure his anxieties. One could say that he sat in front of his easel like others lie on a psychiatrist's couch.
Max Pechstein, co-founder of the Munich "Die Brücke" movement at the beginning of the century and Edvard Münch, considered the precursor of German expressionism influenced him.
The first was his professor at the Academy of Fine Arts in Berlin. The second affirmed in 1889, "I will no longer paint exteriors, people reading women knitting. I will paint living beings who breathe, feel, suffer, and love."
Priking went far beyond the Norwegian Masters' recommendations and pushed the paradox to the point of expressing his torments, where one least expects it in his "Deads".
Here, it seems appropriate to open a short digression because the French word "morte" (dead) does not help understand the paradox of the situation.
In German, "Ruhe" would shed more light on the painter's unique character.
Hence, it is a genre that has crossed centuries and schools of art without losing an ounce of its impersonality. In contrast, the artist's fierce will leaves his mark, retaining the concept of life, but replacing calm by turmoil.
His imagery suggests some painters of the Ecole de Paris between the two world wars, notably Friez, Vlaminck, or Derain and Fauvism, for which black constituted a common thread.
However, this is not the only recurring theme in his work, and many other symbols help us penetrate his mind.
Explaining all these symbols is beyond our purpose, but it is interesting to mention some of them, rough landscapes with stunted trees, bouquets with phallic gladioli and vulva tulips, sometimes decorated with innocent, but very realistic and virginal white flowers. Naked women with eagle heads or even geometric figures are real cabalistic signs. Their constructivist rectitude stands in stark contrast with the resolutely expressionist flavor of the painting.
Other symbols return with great regularity. They are easier to spot and explain.
A tool like a hammer brings to mind the ancestral memory of his grandfather, a blacksmith he did not know but who left his mark on the family.
A sheaf of wheat is a nod to the Socialist Realism that Bertolt BRECHT promoted and tried to convert Franz to in vain after the war.
A stylized chalice is a veritable Holy Grail vase, expressing the quest for the unattainable.
It seems interesting to us here to evoke at greater length the loaf of bread whose presence appears as a significant symbol too.
No doubt, Priking would have loved to paint it daily on his canvases, a little like a prayer addressed to the Almighty.
Priking, like all children of the war, suffered from hunger. The slightest portion of this precious commodity must have been a delight and a celebration.
He always kept immense respect for this simple food rich in symbols, just as he always had a strong dislike for waste, both material and intellectual.
PRIKING's loaf of bread reminds us of order, a more humane order. Its presence on the canvas is more a spiritual statement than a pictorial artifice.
Nevertheless, isn't this true, too, for most of the objects in his work? Sunflower seeds are so many sharp teeth, and carnivorous droseras will never compose the same bouquet as a few roses or blooming peonies.
In the end, flowers and other symbols are messengers for the painter's soul and state of mind. Here, Priking succeeds entirely in expressing a feeling rather than reproducing the reality faithfully.
To reach the essence of the painter's universe, one needs to recognize and acknowledge it.
It will help understand this total osmosis between a willingly rebellious character, a youth deeply marked by historical tragedy, and a style he chose intentionally because it corresponds perfectly to what he wanted.
Expressionism here is not just a tool, but an art of living, an ethic.
Thus was Franz Priking. He lived through the middle of the 20th century like a shooting star and died prematurely at fifty. He left us a work, dense in emotion, a cry of distress and revolt. Two feelings born from an unjust and barbaric world that upset his youth and almost took away his art.
Guy AVRAMO
See some examples of works by Franz PRIKING available for sale
See the work of Modern Masters exhibited at the Estades Gallery