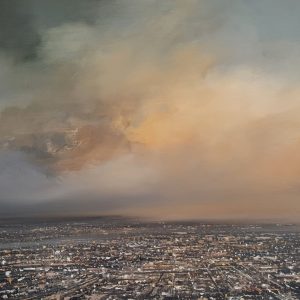 WHAT MICHEL ESTADES SAYS:
Passionate art dealer with 30 years of experience, Michel Estades likes to share his favourites and his expertise. His 4 galleries permanently present a varied offer of figurative artists of the 20th and 21st centuries: Grand Masters, Provençal Masters, Masters from Lyon, Modern and Contemporary Masters, as well as new talents regularly discovered, painters and sculptors.
BIOGRAPHY:
Born in 1978 in Abidjan (Ivory Coast)
Lives and works in the Auvergne Rhône Alpes region.
On the one hand, Nature, plain, raw in its original state, and on the other hand, a growing culture with its ever more oversized and omnipresent architecture.
This duality has nourished Lyonnet's inspiration and work, our relationship with space, and how we apprehend it.
The emotion felt in front of the brute force of Nature, in concurrence with the vibrant complexity of urban centers, reminds us of the fragile equilibrium between them.
He depicts a town, set amidst Nature. Its shape and features are built according to the rivers or mountains bordering it.
Both are lively and sophisticated, evolving alongside each other with their strengths and weaknesses.
Jean-Baptiste LYONNET constructs his paintings in sensation and emotion. He captures the ghostly light, watches clouds, and penetrates the weave of the metropolis and its sparkles.
He explores large spaces and oceans with sunk horizons. He tries to discern the mysteries of unknown lands hidden behind these landscapes.
He carefully observes life in all its forms, colors, furtive moments, and images to discover.
Without a sketch or a plan, he studies the auspicious moment. A vision will impose itself on him with confidence, and he'll pick up its spark.
He paints the sky, the ocean, rocks, dust, buildings, images coming from the hidden world of memory, questioning his relationship to the universe.
He watches the canvas for the decisive moment when, like a ghost, the manifest energy will soar—a moment stolen from eternity.
See some examples of works by Jean-Baptiste LYONNET available for sale
See the work of Contemporary Masters exhibited at the Estades Gallery