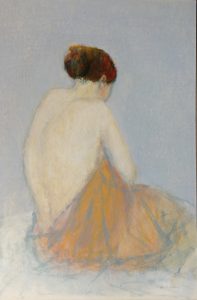 WHAT MICHEL ESTADES SAYS:
Pim de Chabannes offers us sensitive and timeless paintings. A light and vaporous touch drapes her feminine figures and nostalgic landscapes. Her romantic oils and pastels on canvas are instilled with extraordinary gentleness and a sometimes-strange atmopshere.
BIOGRAPHY:
Pim de Chabannes was born in Montreal, Canada. She grew up surrounded by the vast expanses and sumptuous landscapes of the Canadian countryside. When her father returned to France, they moved to a small flat in Maisons-Laffitte. This brutal uprooting probably influenced her work, looking after the lost paradise of her childhood.
A rebellious teenager and self-taught painter, Pim de Chabannes, left school early. She organized a successful exhibition at 16 years old, and her work is now recognized and exhibited in France and abroad. William Turner deeply affected her sensitivity and guided her work of blurred lights and vast imaginary landscapes.
Gradually, she freed herself from the great English master influence and developed her style. Her scenes are suggested more than described, and her characters are barely sketched. The young women she paints reveal themselves with modesty and get lost in a very elaborate background. Pastel and oil melt into soft and barely suggested shades.
Pim de Chabannes recreates in her painting the enchanted world of her younger years, the unforgettable memories of Canada, and her feeling of freedom linked to the great outdoors.
She is a refined painting that invites us to enter her mysterious universe. Poetic, and delicate, her palette is soft, her colors nuanced. Her work is like a dream or a remembrance.
As Guillaume Laurant wrote: "…Wanting to capture the emotion of life, Pim will probably never be finished. So much the better, since her quest invites us each time to feel a little more of her emotion." Pim de Chabannes moved to Lyon in 1992.
In 2007, she met Michel Estades. Seduced by her unique style, he added her work to the Estades Gallery permanent collection. It is featured in the Gallery's four locations in Paris, Lyon, Toulon, and Baden-Baden (Germany).
See some examples of works by PIM DE CHABANNES available for sale
See the work of Masters of Lyon exhibited at the Estades Gallery