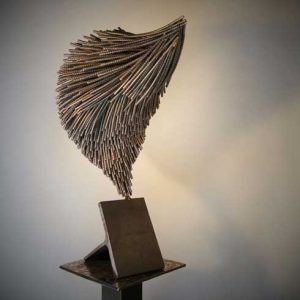 WHAT MICHEL ESTADES SAYS:
A passionate art dealer with 30 years' expertise, Michel Estades loves sharing his knowledge and enthusiasm for his favourite artists. His 4 galleries permanently exhibit many 20th and 21st-century figurative artists, including the world's greatest masters, masters from the Provencal and Lyon schools, modern and contemporary masters and a constant flow of talented new painters and sculptors.
BIOGRAPHY:
The monumental steel sculpture of Véronique Wirth is often featured in international contemporary art events, foundations shows, contemporary art fairs, biennials, and in several galleries.
Big companies have entrusted Véronique Wirth with the task of representing their identity in monumental sculptures.
In steel wire, Véronique talks to us about lightness and flexibility. She transforms solid iron into silk surfaces, half-animal, half-plant, that seem to fly away.
See some examples of works by Véronique WIRTH available for sale
See the work of Sculptors and Monumental Art exhibited at the Estades Gallery