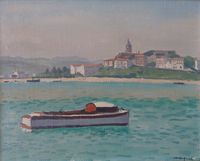 WHAT MICHEL ESTADES SAYS:
A passionate art dealer with 30 years' expertise, Michel Estades loves sharing his knowledge and enthusiasm for his favourite artists. His 4 galleries permanently exhibit many 20th and 21st-century figurative artists, including the world's greatest masters, masters from the Provencal and Lyon schools, modern and contemporary masters and a constant flow of talented new painters and sculptors.
BIOGRAPHY:
Albert Marquet (or Pierre Léopold Albert Marquet) is a French painter born in Bordeaux on March 27, 1875. He died in Paris on June 14, 1947 and was buried in La Frette-sur-Seine.
He is a landscape master painter with a very fine-tuned eye.
A friend of Matisse and Derain, he retained, from his Fauvist period, an acute sense of color and light.
He painted Paris and its surroundings, the bridges on the river Seine, streets light at night, the city under snow, or a blazing sun.
Like Monet, he liked to create series to study the variations of light according to the seasons, the time of day, and the weather.
Between 1905 and 1906, he painted a series of urban landscapes that he saw from the window of his studio at number 25 Quai des Grands-Augustins that his parents bought for him in 1905.
He was part of the post-impressionist generation. In 1905, he participated in the "Fauves" exhibition, which provoked a scandal because of its brutal vision of shapes and colors.
He later abandoned this direction, searching for tonal harmony. He preferred a more harmonious, less saturated color to render all the nuances of the light.
Water was one of his favorite subjects, in particular the representation of the river Seine and its quays, as well as the North African harbors: Algiers, Bougie, Oran, Tunis, La Goulette.
His drawings were Indian inks, like the Parisian passers-by visible at the Malraux museum in Le Havre. They were drawn with an elliptical and bare brushstroke.
From 1919 onwards, he traveled extensively in the company of Jean Launois and Étienne Bouchaud, notably in Tunisia and Algeria, He also visited the North of France, the Belgian coast and Holland, using harbors as his inspiration.
In the summer of 1920, Marquet invited Signac to join him in La Rochelle. On the spot, La Rochelle painter, Gaston Balande, introduced them to the surrounding landscapes that they painted together.
From 1919 to 1939, he stayed in Poissy, Triel, and Méricourt, among other places, where he painted landscapes of the river Seine.
At the beginning of 1939, he settled in La Frette-sur-Seine. There, he painted his wife sewing (Intérieur à la Frette) and his friend Desnoyer painting (l'Atelier de la Frette).
In his recollections, his wife Marcelle writes: "It is perhaps in this modest house in la Frette that Albert felt most at home. His well-insulated studio in the attic overlooked a loop of the Seine – his river". Albert felt comfortable and sheltered. Desnoyer worked in his corner of the studio, and he didn't bother either of them.
Fleeing the German invasion of France in 1939, he took refuge in Algeria, where he lived until the end of the war. In 1945, he returned to Paris and La Frette-sur-Seine, where his body lies today in the municipal cemetery. His wife died in 1982.
In 2008, an exhibition entitled "Albert Marquet, itinéraires maritimes" was dedicated to his memory at the Musée National de la Marine in Paris".
See some examples of works by Albert MARQUET available for sale
See the work of Grand Masters exhibited at the Estades Gallery