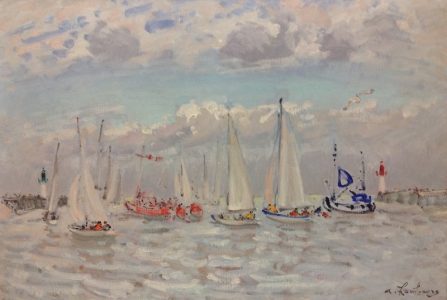 WHAT MICHEL ESTADES SAYS:
A passionate art dealer with 30 years' expertise, Michel Estades loves sharing his knowledge and enthusiasm for his favourite artists. His 4 galleries permanently exhibit many 20th and 21st-century figurative artists, including the world's greatest masters, masters from the Provencal and Lyon schools, modern and contemporary masters and a constant flow of talented new painters and sculptors.
BIOGRAPHY:
André Hambourg was born in Paris on May 4, 1909. He studied at the Ecole Nationale Supérieure des Arts Décoratifs and the National Academies des Beaux Arts.
Andre was a painter, draftsman, lithographer, engraver, ceramist, and illustrator. He exhibited at the Galerie du Taureau in Paris from 1928 and at the Galerie Bénézit after 1930.
Winner of the villa Abd El Tif award, he stayed in Algiers from 1933 to 1935 and visited the Algerian South.
He was mobilized in the French army in Morocco in 1939 and demobilized after that. In 1943, he was posted in Algiers and worked for the newspaper "Combattant 43".
He followed the French and German campaigns of 1944-45 as a war correspondent. In 1945, he exhibited his portfolio at the Berri gallery. In 1952, he was appointed official painter for the French Navy. He participated in numerous missions for the French Navy until 1985. In 1961, he chose Paul Pétridès as his art merchant.
Between 1957 to 1972, as Navy painter, he stayed or visited Venice, Morocco, U.S.S.R., Israel, Great Britain, Senegal, Ivory Coast, etc.,
Later, he continued to exhibit in France and abroad, particularly in the United States. His work includes extensive ornamental freezes on public buildings and ships. He produced many mosaics, paintings, pastels, and engraving. Some of them are exhibited today at the Trouville museum and the Eugène Boudin museum in Honfleur, Normandy.
André Hambourg illustrated many literary works. Among others: "La Rose de sable" by Henry de Montherlant, "L' Altana ou La Vie vénitienne" by Henri de Régnier, "Terre d'amour et de feu" by Joseph Kessel, "Lumières de Honfleur" by Lucie Delarue-Mardrus, "Œuvres Posthumes" by Albert Camus, "Carnet de Venise" by Robert Parienté.
Andre was renowned and well appreciated as a painter for the French Navy. He sailed the oceans. Besides Paris, he had two ports of call. One was Normandy, in particular Honfleur and Trouville. The second was Provence. He had a house built on the very land where Cézanne painted the famous mountain Sainte-Victoire dominating the Aix-en-Provence region.
His beaches of Trouville and Deauville paintings made him famous in the wake of Eugène Boudin
However, works from his youth exhibited just after his death at the Greniers à Sel in Honfleur, confirm the artist's exceptional talent, as does his 2006 retrospective at the French Navy museum.
André Hamburg became interested in engraving and book illustration at a very young age. As early as 1932, he illustrated his first book using some engraving technique. He also regularly made use of lithography to illustrate books or create freestanding artworks.
André Hamburg died on December 4, 1999. He is the author of "Berchtesgaden Party" published by the Atelier G. Duval in 1947 and received the Commander of the Legion of Honour, Croix de Guerre 1939-1945.
See some examples of works by André HAMBOURG available for sale
See the work of Modern Masters exhibited at the Estades Gallery