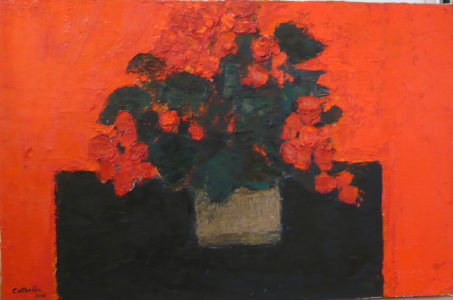 WHAT MICHEL ESTADES SAYS:
A passionate art dealer with 30 years' expertise, Michel Estades loves sharing his knowledge and enthusiasm for his favourite artists. His 4 galleries permanently exhibit many 20th and 21st-century figurative artists, including the world's greatest masters, masters from the Provencal and Lyon schools, modern and contemporary masters and a constant flow of talented new painters and sculptors.
BIOGRAPHY:
Bernard Cathelin was born in Paris in 1919. Throughout his life, he kept a deep love for his country and, particularly for the Drôme region, the cradle of his maternal roots.
A former student of the Ecole Nationale Supérieure des Arts Décoratifs de Paris, he always kept his unique style of painting, mainly on oils on canvas, using brushes or knives.
His palette is extremely rich in color and substance and has been influenced by the countries where he has lived. First of all, the Drôme region that was his childhood home. Mexico, India, inspired him too. Later in his life, Japanese architecture became his work's inspiration up to his last creations.
See some examples of works by Bernard CATHELIN available for sale
See the work of Modern Masters exhibited at the Estades Gallery