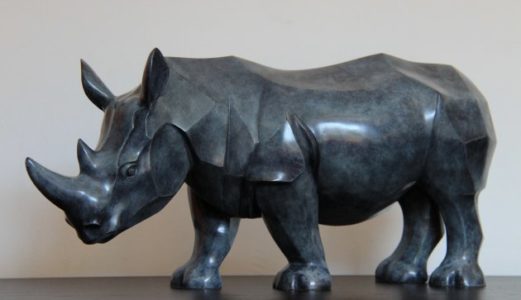 WHAT MICHEL ESTADES SAYS:
A passionate art dealer with 30 years' expertise, Michel Estades loves sharing his knowledge and enthusiasm for his favourite artists. His 4 galleries permanently exhibit many 20th and 21st-century figurative artists, including the world's greatest masters, masters from the Provencal and Lyon schools, modern and contemporary masters and a constant flow of talented new painters and sculptors.
BIOGRAPHY:
Born in 1964, Chantal Porras spent long hours observing animals in their natural environment – as well as on videos – to restore their elegance and character in her work.
Classically constructing her sculptures, she purifies their form, playing with flat surfaces and edges to create tension.
She tries to find a balance between the softness of the curves and the stress of the protruding angles to bring out the animal's sensuality.
It is not about an objective and anatomical reality but an invitation to open the eye to the beauty of the living world. The sculptures' robust patina catches the eye and participates in the enhancement of its shape and volume.
See some examples of works by Chantal PORRAS available for sale
See the work of Sculptors and Monumental Art exhibited at the Estades Gallery