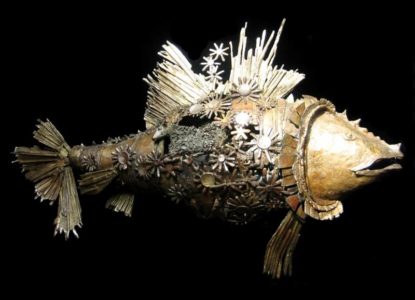 WHAT MICHEL ESTADES SAYS:
A passionate art dealer with 30 years' expertise, Michel Estades loves sharing his knowledge and enthusiasm for his favourite artists. His 4 galleries permanently exhibit many 20th and 21st-century figurative artists, including the world's greatest masters, masters from the Provencal and Lyon schools, modern and contemporary masters and a constant flow of talented new painters and sculptors.
BIOGRAPHY:
Chésade discovered modeling and the pleasure of clay at the age of twelve at an "Arts Décoratifs" workshop. As a teenager, she completed her training studying classical drawing at "la Grande Chaumière."
After preparatory school and Sciences-Po, she joined the Ecole des Beaux-Arts de Paris (ENSBA) and took clay and bronze classes in Calka studio.
She expanded her career as a painter and sculptor and participated in numerous exhibitions in England and France where private collectors noticed her unique bronze pieces. Her works can be seen in France, Great Britain, Switzerland, the United States, Japan, and Australia.
In recent years, Chésade completed a series of work on the human figure.
A specialist in animal sculpture, she is particularly excited by the sea's universe, which has become her primary source of inspiration and brings her the thematic variety and richness of expression she seeks.
"On the ocean, the force of the elements, the liveliness of the colors, and the air are overwhelming. Underwater, the beauty of the unusual volumes, and the sound of the underworld fascinate me. Everything is different, beautiful, and violent", she says.
Her numerous research on ceramics and painting inspires her work as a sculptor.
Style:
Chésade's work aligns itself with the contemporary "expressionist" movement.
The fragments of her very tactile and narrative "landscape" sculptures give meaning and mystery to her figures.
At the same time, she uses a bronze technique that returns the object to the original raw and primitive material.
Working directly in wax allows Chesade to create unique pieces, strong in energy, rich in detail, and enhanced by subtle, bright, and warm patina.
2008 – 2009. Salon de La Marine
Bronze medal
2009. Salon National des Artistes Animaliers, Gold Medal
2010. Grand Prix d' Amerique. Trophy.
2012. SNAA. Marcel Edouard SANDOZ Prize
See some examples of works by CHESADE available for sale
See the work of Sculptors and Monumental Art exhibited at the Estades Gallery