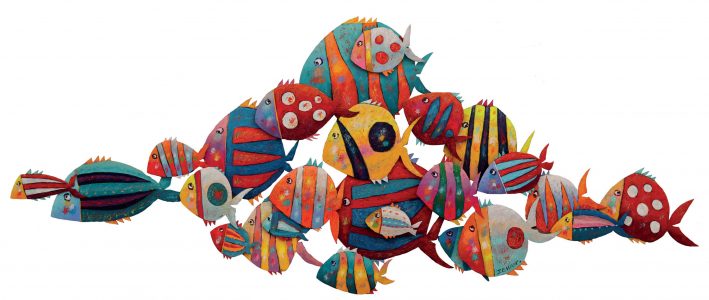 WHAT MICHEL ESTADES SAYS:
Christophe Jehan is an unclassifiable artist, whose paintings and sculptures portray an immensely joyful world. His colourful psyche leads us into an imaginary universe filled with larger-than-life characters. A Christophe Jehan painting in your home is the promise of a ray of sunshine every day.
Biography:
Christophe Jehan and the sea
After studying in Paris and graduating in 1992, Christophe Jehan worked first as an architect. A great sea lover, he decided to settle in the Caribbean island. He devotes himself to painting in his spare time in this paradisiacal world of shimmering colors.
Homesickness brought him back home. He settled in St Jean de Luz, in the south-west of France and decided to dedicate himself entirely to his art and set up his studio in a small fisherman's house.
There, painting and color captured his heart. In the beginning, the sea was his primary source of inspiration. Then, he quickly started to imagine his universe, an imaginary world where candid characters and naive animals are an entertaining mix. On acrylic and metal canvases, he depicts life scenes and a mischievous bestiary that reveals a real gift for color and texture.
Christophe Jehan's style
Christophe Jehan exhibited first in Saint Jean de Luz where he attracted a large public. Then he exhibited in Biarritz, Cap Ferret, and Paris.
Later he participates in major contemporary art fairs, in particular in Brussels and Paris.
Since 1999, his work is in the permanent collection of the Estade Gallery and is displayed in the four locations of the Gallery, in Paris, Lyon, Toulon, and Baden-Baden.
Christophe Jehan's success was apparent early. In 2013 he was ranked among the 100 top artists in France's auction houses. His bright and irresistibly cheerful color palette creates a style that places him among the "free figuration" painters.
Christophe Jehan. The value of his work.
Buy or sell artwork by Christophe Jehan
Would you like to buy or sell a work Christophe Jehan ? you are in the right place.
Michel Estades is the expert on the works of Christophe Jehan, a reference art expert for this artist. Buying a work by Christophe Jehan (sculpture, mixed media) at Galerie Estades guarantees the authenticity and the quality of the work.
Christophe Jehan. The value of his art
The popularity of a modern or contemporary artist is not easy to understand unless we examine the criteria that contribute to its appraisal.
Painting, bronze sculpture, gouache, watercolor, oil on canvas, media are many, and so are the talents. Pricing artwork is as much a source of surprise as looking at the work itself.
When buying and selling art, one can see modest works selling for a few hundred euros while other more significant creations can reach several thousand euros. Such price differences always startle art lovers. Whether you are an experienced art buyer, a collector, an investor, or only an enthusiastic art lover, it is legitimate to ask yourself what can justify such a substantial price difference.
The experts who assess the artist's value will take into account several criteria:
Sale
Creation date
Medium and technique
Fame
Recognition
How to authenticate a work by Christophe Jehan?
To authenticate your work, you can send us a request to estades1@gmail.com.
Christophe Jehan. Price estimate
Professionals use several criteria to evaluate art. For example, to determine the price of an acrylic sculpture on steel and terracotta, art experts, gallery owners, and auctioneers will examine the latest selling prices of similar works.
In addition, they will use the following criteria:
Uniqueness
Condition.
Signature.
Dimension
Theme.
Technique.
Concerning the works of Christophe Jehan.
For example, a sculpture in acrylic on steel Christophe Jehan usually sells between €1,200 and €9,000.
See some examples of works by Christophe JEHAN available for sale
See the work of Contemporary Masters exhibited at the Estades Gallery