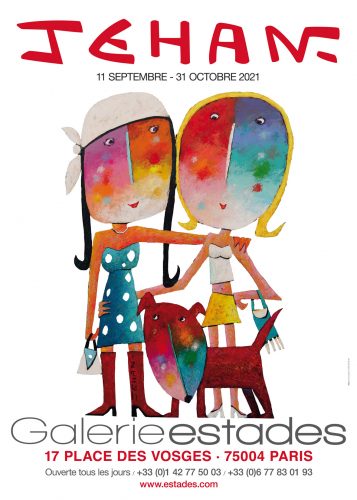 Christophe JEHAN
Galerie Estades Paris is happy to invite you to discover the playful and colorful universe of Christophe Jehan.
The exhibition, which will bring together around forty works, will allow visitors to discover his latest sculptures
as well as his wall creations in acrylic and resin on steel, all unique pieces.
The artist Christophe Jehan, who works exclusively with Galerie Estades, enchants young and old alike: this is an exhibition to see alone, as a couple or as a family!
Opening on September the 11th in the presence of the artist.
17, Place des Vosges, 75004 PARIS
September 11, 2021 - October 31, 2021
Phone: +33 (0)1 42 77 50 03
Mobile: +33 (0)6 77 83 01 93
Monday to Sunday, 11 a.m. to 1 p.m. and 2:30 p.m. to 7 p.m.