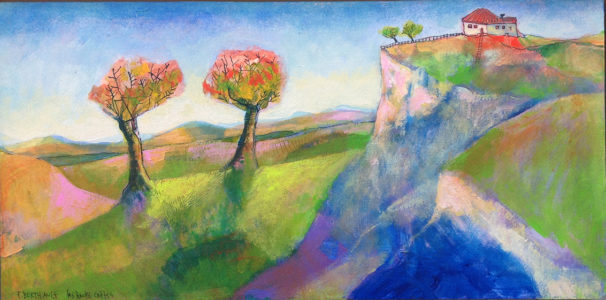 WHAT MICHEL ESTADES SAYS:
A passionate art dealer with 30 years' expertise, Michel Estades loves sharing his knowledge and enthusiasm for his favourite artists. His 4 galleries permanently exhibit many 20th and 21st-century figurative artists, including the world's greatest masters, masters from the Provencal and Lyon schools, modern and contemporary masters and a constant flow of talented new painters and sculptors.
BIOGRAPHY:
Francis Berthault is a product of the Faubourg-Saint-Antoine in Paris. From a cabinetmaker father and an engineer mother, Francis inherited a curiosity and an imagination that made his childhood friends pale. From a modest family, he didn't lack anything. His parents were very inventive in creating everything their children dreamed of. Francis lived in a world where nothing was lost, and everything transformed. The youngest of four siblings, he quickly becomes independent and secretly creates his world.
At the age of 8, he joined the Maîtrise de Notre-Dame-de-Paris boarding school's choir. There Francis discovered music and the first aesthetic experiences that would mark the beginning of his career.
After attending a few other schools in Paris, he discovered mountains at the dawn of his 17th birthday.
He gave himself entirely to this new passion and became intoxicated with nature and landscapes.
He lived 7 years between Chamonix, France, and Leysin, Switzerland.
He devoted most of his time to high-level mountaineering and befriended many of the great mountain climbers of his generation. Sadly, many of them have already left this world.
After a few accidents and health problems, Francis decided to put an end to the adventure.
It was during convalescence that one of his relatives suggested that he should paint to pass the time. After a 3-day trial period, Francis decided he would be a painter.
Then he began an intense period of training. He painted 12 hours a day and quickly sent his application to the Beaux-Arts in Paris and the Royal Academy in London entrance exams. Having passed both tests, Francis reluctantly chose the Beaux-Arts. He was 25 years old and so eager to learn, he graduated in 3 years after working in DEBRÉ and Jean BERTHOLLE's studios He went on to complete a Master's degree in Fine Arts at Paris VIII.
At the beginning of his career as a painter, he started the association Iconophone, a painter and musician collective that encouraged interacting between their respective arts.
It resulted in a traveling exhibit in several cities in France, starting with the Centre Georges Pompidou, still open at the time to younger talents.
At the end of the 1980s, Berthault began to doubt some of his creations and sought a new direction, creating collages from small pieces of paper collected randomly.
It started Francis's international career with exhibitions in Japan, the USA (Galerie de Broqueville), and Germany.
Berthault participated in the first exhibition of Western painters in Moscow and Saint Petersburg at the opening of the Perestroika. The Hermitage Museum in Saint Petersburg purchased one of his works.
Setting collage aside, he felt he needed to return to the canvas.
Moreover, he created surprising realistic work, inspired by Chardin and Balthus. It became what he called "the foundations" of his painting.
In November 1990, Francis, by then a young father left Vincennes for space and nature. He moved to Bellême in the Perche region. His discovery of fatherhood gave him an entrepreneurial spirit. He created "La Laverie," a cultural center in the Sarthe region, became a culture administrator at La Ferté Bernard, and was in charge of the artistic direction of the Artec festival.
Francis continued to paint and exhibit, in Paris, in the Sarthe region, and around the world, but perhaps a little less than before, and he missed the studio's intimacy.
He always said that once the La Laverie project would be on its feet, he would resign and concentrate exclusively on painting again.
This turning point ended in a radical change of life.
Berthault came back to Paris in 2003 and joined the artistic effervescence of the time again. Soon, his old friend Berjoan invited him to share his studio, and their cohabitation was to be very rich in artistic exchanges.
Berthault's painting is influenced by this period of upheaval. His colored work became gratifying, and his subject matter created a joyful universe. Francis left his torments behind.
Berthault has weaved new collaborations with galleries that remained loyal to him, such as the Galerie Michel Estades. After three years of Parisian life, the nature lover begins to suffocate, and it was time to return to the mountain again. Berthault moved to the shores of Lake Annecy, where he now lives. This peaceful haven and undeniable aesthetic character is the source of his current influence. He combines life and travels as his recognition is now spreading to the four corners of the world.
See some examples of works by Francis BERTHAULT available for sale
See the work of Contemporary Masters exhibited at the Estades Gallery