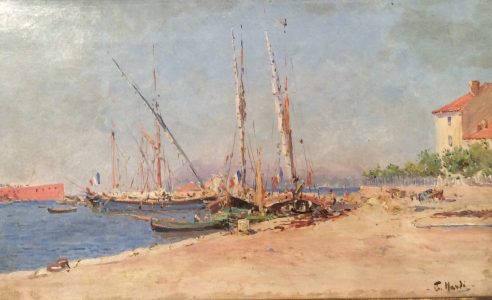 WHAT MICHEL ESTADES SAYS:
A passionate art dealer with 30 years' expertise, Michel Estades loves sharing his knowledge and enthusiasm for his favourite artists. His 4 galleries permanently exhibit many 20th and 21st-century figurative artists, including the world's greatest masters, masters from the Provencal and Lyon schools, modern and contemporary masters and a constant flow of talented new painters and sculptors.
BIOGRAPHY:
Born on December 7th 1861 in Nice, Nardi left Nice for Toulon where his parents, hat makers set shop rue Gambetta.
He studied at the local gymnasium from 1871 to 1877, and obtained prizes in drawing and writing.
His meeting with the painter Montenard was consequential.
His parents decided to let him follow an artistic career and sent him to study in Paris.
He enrolled in the Académie Julian in 1887 and was a student of Bouguereau and Robert-Fleury.
The following year he was admitted to the Salon des Artistes Français and was awarded prizes in 1889 and 1890. The French government bought his painting "la Rade de Toulon, effet de Mistral" and gifted it to the Toulon Museum. He exhibited there regularly until 1909.
He exhibited at the Salon des Indépendants from 1892 to 1895, at the Universal Exhibition of Chicago in 1892, at the International Exhibition of Monaco in 1894, at the Salons of the Société des Artistes Marseillais and participated in the exhibitions of the Fine Arts Societies of Lyon, Bordeaux, Versailles, Grenoble, and Avignon.
He divided his time between Paris and Toulon, where he had studios at the Port Marchand and on the Quai du Parti.
In 1909, an attack of hemiplegia forced him to limit his movements, and he finally settled permanently in Toulon.
He was a member of the Advisory Board of the Grandjean Municipal School, the Fine Arts Advisory Board, and became a founding member of the Society of Friends of Old Toulon.
Nardi died on 25 November 1936.
In his work, he magnifies the Mediterranean atmosphere's nuances in a few, light, and rapid touches.
All his works have real picturesque quality.
See some examples of works by François NARDI available for sale
See the work of Masters of Provence exhibited at the Estades Gallery