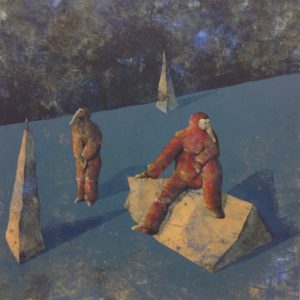 WHAT MICHEL ESTADES SAYS:
A passionate art dealer with 30 years' expertise, Michel Estades loves sharing his knowledge and enthusiasm for his favourite artists. His 4 galleries permanently exhibit many 20th and 21st-century figurative artists, including the world's greatest masters, masters from the Provencal and Lyon schools, modern and contemporary masters and a constant flow of talented new painters and sculptors.
BIOGRAPHY:
Gérald Faway is the witness of a state of affairs.
He analyses human behavior at a specific time.
A man standing, drawing from what is deepest in him and his horizontality, what he retains from his contemporaries. The crossing of the axes generates beings that are unique in their imperfection.
Born in 1982 in Liège, the artist lives and works in Herve, Belgium.
Gérarld's depth in mixing his techniques and his creations reveal a real sensitivity and earnest research of the material. Between style and transparence, each work takes us into a mystical and fascinating universe.
See some examples of works by Gérald FAWAY available for sale
See the work of Contemporary Masters exhibited at the Estades Gallery