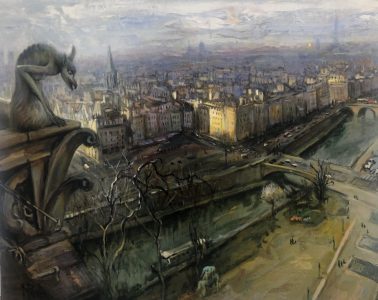 WHAT MICHEL ESTADES SAYS:
A passionate art dealer with 30 years' expertise, Michel Estades loves sharing his knowledge and enthusiasm for his favourite artists. His 4 galleries permanently exhibit many 20th and 21st-century figurative artists, including the world's greatest masters, masters from the Provencal and Lyon schools, modern and contemporary masters and a constant flow of talented new painters and sculptors.
BIOGRAPHY:
Gilbert PÉCOUD Self-taught expressionist painter was born on October 31, 1951 in Creys-Malville in Isère.
His father is an auto body repair mechanic, and his mother a secretary.
The sixth child of a great family, Gilbert Pecoud, forged a remarkable art worker's personality.
He started painting at a very young age, took part in several group exhibits, and made copies for the Saint Pierre Museum in Lyon and the Louvre Museum in Paris. He also did restoration for the latter.
He draws a lot of inspiration from Morestel the region of flamboyant star, François-Auguste Ravier, and a school attended by names such as Louis Garrand, Adolphe Appian, and François Vernay
Almost obsessively, his style balances light with shadow.
His magnificent landscapes change with the rhythms of the seasons. Alternating darkness and light, the power of his line challenges and fascinates us.
With his introspective gaze, he transfers on his canvas the perception of the moment.
"Emotion is what matters most . Rays of light invisible to the naked eye are my source inspiration" he says.
"The air is not colourless" Gilbert PÉCOUD.
See some examples of works by Gilbert PECOUD available for sale
See the work of Masters of Lyon exhibited at the Estades Gallery