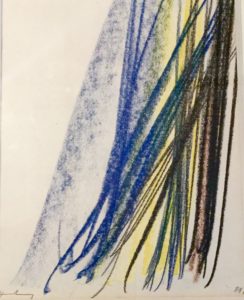 WHAT MICHEL ESTADES SAYS:
A passionate art dealer with 30 years' expertise, Michel Estades loves sharing his knowledge and enthusiasm for his favourite artists. His 4 galleries permanently exhibit many 20th and 21st-century figurative artists, including the world's greatest masters, masters from the Provencal and Lyon schools, modern and contemporary masters and a constant flow of talented new painters and sculptors.
BIOGRAPHY:
Hans Hartung was born in Leipzig, Germany, on September 21, 1904. He studied at the Akademie der schönen Künste in Leipzig (1924-1926) and at the Fine Arts Academy in Munich (1928). In 1928, he met Anna-Eva Bergman in Paris, a young artist of Norwegian origin who had come to France to study like him. They married in 1929.
He had his first one-person show in Dresden in 1931. He left pre-Hitler Germany in 1932 and traveled throughout Europe. He moved to Paris in 1935. There he met and exhibited with Kandinsky, Mondrian, Miro, and Calder. In 1944, he joined the French Foreign Legion. Wounded, he lost his right leg. In 1945, he became French. He received the Grand Prize at the 1960 Venice Biennale.
During his first period, Hans Hartung painted watercolors and abstract canvases (the Ink Spots). After the war, he translated his nightmares and suffering into abstract and lyrical paintings. His canvas is a whirlpool of large brownish or black masses drawn in Indian ink, oil or pastel. He believed that only an informal painting, a "tachism", could express the despair of the post-war period.
From 1960 onwards, he worked on large acrylic canvases alternately struck with quick strokes, scraped or scratched. He used branches, brooms, combs to stigmatize his painting. Hans and Anna-Eva moved to Antibes in 1968, in a house he designed and conceived. In 1986, he started a new series of very colorful painted drips on wrapping paper.
His wife, Anna-Eva Bergman, died in 1987. Hans Hartung died on December 7, 1989, in Antibes, France. According to his wishes, his ashes were scattered in the Mediterranean Sea.
Today, he is considered the leader of "Lyric Abstraction" and one of the most significant abstract artists. Per the wishes Hans and Anna-Eva expressed as early as the 1960s, a Foundation bearing their names was established in 1994.
"Through these great forms that evaporate, stray, or spread in wide ranges, I try to fix the dynamism and perseverance of the forces that create matter, light, and spirit. A subject that has always fascinated me."
Source biographie-peintre-analyse.com "
See some examples of works by Hans HARTUNG available for sale
See the work of Grand Masters exhibited at the Estades Gallery