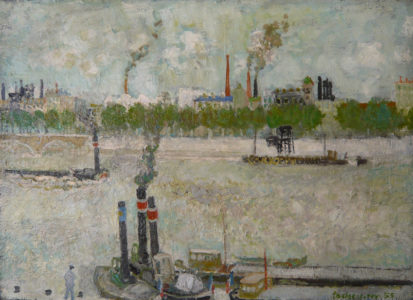 WHAT MICHEL ESTADES SAYS:
A passionate art dealer with 30 years' expertise, Michel Estades loves sharing his knowledge and enthusiasm for his favourite artists. His 4 galleries permanently exhibit many 20th and 21st-century figurative artists, including the world's greatest masters, masters from the Provencal and Lyon schools, modern and contemporary masters and a constant flow of talented new painters and sculptors.
BIOGRAPHY:
Henry Lachieze-Rey was born on December 26, 1927 in Caluire, in the Rhône region.
He studied at the Ecole des Beaux-Arts de Lyon (1947 – 1950) and at the Ecole des Beaux-Arts de Paris (1951 – 1952).
He obtained the second prize in Paris (1949).
Henry painted in Lyon until 1957, then in St Tropez until 1961 and in St Romain-au-Mont-d'Or from 1961 to 1974.
He died accidentally July 14th, 1974, in Lyon.
"There are almost no landscapes and few still lifes in his work. Nudes, portraits in particular of the people he met – streets, restaurants, cafés, billiard rooms, or concert halls. Cityscapes are more human than natural. It is not random. Even if ultimately, it is all about shape and color on canvas, there is no doubt that there is, in the beginning, something else: ourselves and our fellow human beings, just us, in our everyday lives.
When the painter, a solitary crowd's lover, collects these figures against the walls of a café or a bar, they seem, for a moment at least, comforted, protected.
The color warms-up with reds, brick reds, ochres, and begin to look like twilight. Here too, celebrations are not triumphs or ostentatious shows. One could instead think of a fire smoldering under the ashes, a fire of goodness. The word should have come to me long before because this flame is also glowing inside Lachièze-Rey's face.
Philippe Jaccottet, 1982
See some examples of works by Henri LACHIEZE-REY available for sale
See the work of Masters of Lyon exhibited at the Estades Gallery