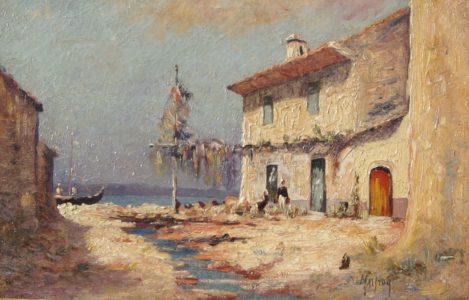 WHAT MICHEL ESTADES SAYS:
A passionate art dealer with 30 years' expertise, Michel Estades loves sharing his knowledge and enthusiasm for his favourite artists. His 4 galleries permanently exhibit many 20th and 21st-century figurative artists, including the world's greatest masters, masters from the Provencal and Lyon schools, modern and contemporary masters and a constant flow of talented new painters and sculptors.
BIOGRAPHY:
Henri Malfroy or Malfroy-Savigny is a post-impressionist painter of landscapes, seascapes.
Born January 15, 1895, in Martigues, he died in 1942.
He did his internship at the Ecole des Beaux-Arts in Paris under his father Charles Malfroy, with whom he is often confused.
He exhibited regularly in Paris at the Salon des Artistes Français and the Salon des Indépendants until 1934.
Using a technique close to the Impressionists, he painted the coast and ports of Bouches-du-Rhône and Var. He also did Parisian and banks of the Seine landscapes.
Settling in Martigues, he broadened his technique and enlightened his compositions, as Provençal landscape painter Ziem did.
Museum of Toulon: Oriental Landscape
See some examples of works by Henri MALFROY available for sale
See the work of Masters of Provence exhibited at the Estades Gallery