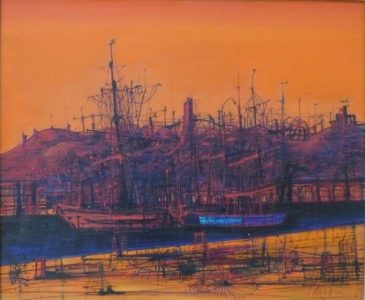 WHAT MICHEL ESTADES SAYS:
A passionate art dealer with 30 years' expertise, Michel Estades loves sharing his knowledge and enthusiasm for his favourite artists. His 4 galleries permanently exhibit many 20th and 21st-century figurative artists, including the world's greatest masters, masters from the Provencal and Lyon schools, modern and contemporary masters and a constant flow of talented new painters and sculptors.
BIOGRAPHY:
Carzou, whose real name is Karnik Zulumian, is a French painter of Armenian origin born in Aleppo (Syria) on January 1st 1907.
He studied first with the Marist Fathers. In 1924, his brilliant academic results at the Kaloustian School in Cairo (Egypt) earned him a scholarship from the Armenian community.
At the age of 83, after a long career as a painter, engraver, and theatre decorator, he launched himself into a gigantic Apocalypse adorning the walls of the Church of the Presentation in Manosque. Not an illustration of the Saint John Apocalypse, it depicts "the climate of our time" populated by devastated horizons, ghostly ships, tangled rails, and stockades reflecting his obsession with war and the holocaust. In particular, he created a superb portrait of a woman-tree with Madonna's face, delivering to the world a message of infinite compassion.
He studied architecture in Paris. At the dawn of the 1930s, he "made circles and squares" in Montparnasse. He lived on his cartoons of politicians published by the press, and his drawings on fabric. As a "painter-craftsman" as he called himself, he painted "far from the schools", to gain the experience he needed to achieve his art.
Since 1939, more than one hundred private exhibitions of his works have been organized in France and abroad. He received the prestigious Hallmark Prize three times in 1949, 1952, and 1955. His most outstanding exhibitions were on the themes of "Venice" (1953), "The Apocalypse" (1957), "Ritual Figures" (1968), and "Versailles" (1994).
From the beginning until 1992, he exhibited at the Salon des Artistes Indépendants. He became a member on February 11, 1941. He was very attached to the Society and stayed committed to it all his life, even after becoming famous.
Carzou was not satisfied with just painting uncommon blue canvases. He arranged his paintings and watercolors in velvet or jagged paper medallions. Some art critics called him a "decorator". He retorted: "In my work, not only do you have painting, but also theatre." In 1952, he designed the sets and costumes for a representation of Jean-Philippe Rameau's Incas des Indes galantes at the Opéra National de Paris. It revealed him to the general public. He followed with Le Loup (1953) for the Ballets de Roland Petit, Giselle (1954), and Athalie (1955). They all delighted the spectators of the Opera and the Comédie-Française.
In 1977, elected to the Fine Art Academy after Jean Boucheau, Carzou drew his own academician's sword.
A defender of the laxity of modern society in general, and cubism in particular, he believes that Picasso was "a personality who does not paint". In his view, only Claude Lorrain, Watteau, and Dali were great painters. He also bought works by his fellow figurative painters, notably Maurice Boitel, featured at the Drouet Gallery, Faubourg Saint-Honoré, in the early 1980s.
Carzou was the author of lithographs and illustrations (Les Illuminations d'Arthur Rimbaud), tapestries, decorator (the Manosque convent church which became the Fondation Carzou in 1991). His work was celebrated in 1986, in Vence, with the opening of a museum (now closed) in his name.
Father of television director Jean-Marie Carzou, grandfather of writer and journalist Louis Carzou, his wife, Nane, (Jeanne Gabrielle Blanc), passed in March 1998.
He was an officer of the Legion of Honour, Commander of the National Order of Merit, and Commander of the Order of Arts and Letters.
He died on 12 August 2000 in Périgueux, at the age of 93. His inks, pencils, gouaches, and pastels have been exhibited in France, England, the United States, Lebanon, Egypt, and Japan.
See some examples of works by Jean CARZOU available for sale
See the work of Modern Masters exhibited at the Estades Gallery