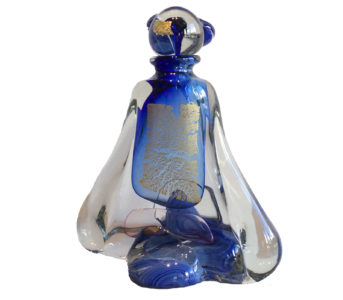 WHAT MICHEL ESTADES SAYS:
A passionate art dealer with 30 years' expertise, Michel Estades loves sharing his knowledge and enthusiasm for his favourite artists. His 4 galleries permanently exhibit many 20th and 21st-century figurative artists, including the world's greatest masters, masters from the Provencal and Lyon schools, modern and contemporary masters and a constant flow of talented new painters and sculptors.
BIOGRAPHY:
At a very young age, Jean-Claude Novaro would go every Thursday to the Antibes glass studio of ceramic engineer Eloi Monod and his wife. He started his apprenticeship under two master glassmakers Linosky and Lopez. Gifted, he explored new shapes instead of following traditional glassmaking practices, revealing his passion and talent for glass.
He became a master glassmaker at the age of 20.
Ten years later, he and his wife opened their glass studio in Biot with one goal in mind: to create new and original pieces. The beginnings were difficult. To create new glass, one must forget the automated gestures acquired over time and have a solid background in chemistry.
Lopez, his first master glassmaker, helped him solve various technical problems.
From that point on, all went very quickly. An antique dealer discovered his work and bought about thirty pieces. Exhibits in Parisian salons were a success. All loved his lamps and their particular frame. Admittedly, they allow simultaneous lighting from the top and the bottom. He decided to settle in Paris for a while, but missing the South, he decided to go back to Biot.
He became very creative. He felt free and decided to devote himself intensely to his research. He wanted to create large scale pieces. He built the Novaro Gallery inside Biot's glass factory. In 1987, he took part in an exhibition with the most celebrated master glassmakers at the Musée des Arts Décoratifs in Paris. Four of his pieces were selected for the exhibition's opening inaugurated by Minister of Culture, Jack Lang. He was getting recognized. Several galleries worldwide were interested in his work in Japan, Germany, Belgium, and the United States.
Novaro died in Monaco on 30 December 2014.
Today recognized globally, Novaro's work continues to delight us with its highly original and unique production.
See some examples of works by Jean-Claude NOVARO available for sale
See the work of Sculptors and Monumental Art exhibited at the Estades Gallery