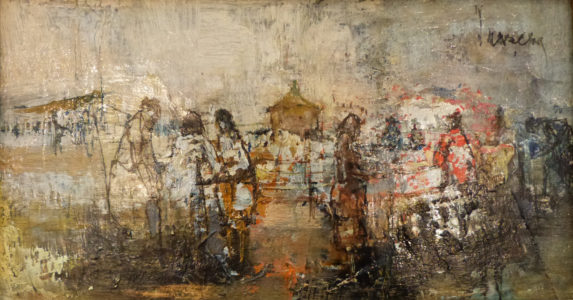 WHAT MICHEL ESTADES SAYS:
A passionate art dealer with 30 years' expertise, Michel Estades loves sharing his knowledge and enthusiasm for his favourite artists. His 4 galleries permanently exhibit many 20th and 21st-century figurative artists, including the world's greatest masters, masters from the Provencal and Lyon schools, modern and contemporary masters and a constant flow of talented new painters and sculptors.
BIOGRAPHY:
Jean Jansem was born in 1920 in Seuleuze, Anatolia.
He was a painter, draftsman, engraver, and lithographer.
1923-1930. Childhood in Thessaloniki, Greece.
1930. He moved to France at the age of 11.
At the age of 14, he attended evening classes in Montparnasse.
1936 – 1940. He enrolled in the Ecole Nationale des Arts Décoratifs in Paris. He graduated in 1938. Jointly, he attended several independent workshops, including the Grande Chaumière. There, he met and befriended other artists. While practicing various trades, fabric designer, cartoon illustrator, he also painted.
He exhibited at the Salon des Indépendants in 1939. In 1957, he exhibited in Italy, Switzerland, England, and the United States.
In 1969, Mitsukoshi presented a retrospective of his works in Tokyo, and since then, shows his work regularly in Japan. His work is in the collection of two museums in Tokyo.
2002 Trip to Armenia. Official opening of his exhibition "Massacres" at the Genocide Museum, Yerevan.
Jansem by Lydia Harambourg
Jansem has been a painter and draftsman, for more than sixty years. His two activities coexist in art at the service of a timeless and permanent humanism. The ardor that has made him draw since adolescence has never wavered.
Very quickly, Jansem distinguished himself. His theme juxtaposes models from everyday life. His image owes as much to a composition he masters balancing actions and feelings, and light that embodies structure and transcends color.
Jansem's human comedy takes shape in dazzling lines that reject humble parody. The vibrant chromatic harmonies of his palette are at the service of a sharp accuracy. His parades swing on the stage of a pictorial theatre. He builds a robust and harsh work in his studio, in Issy-les-Moulineaux. Models, dancers, and nudes follow one another in simultaneous appearances. Intrepid children, older adults, beggars, buffoons, peasants, and carnival kings write personal and magical stories.
Actors merge from the depths of time in a flow brought about by the game of invention.
Their gaze, at times melancholic or violent, bursts with hope in their exuberance or famished simplicity.
He collected his characters inspired by the Bible or Western mythology during his many stays in Greece, in Abruzzo (the Processions), in Andalusia (Bullfighting), in Basel (Carnival), in streets, ports, markets, churches, and local parades. Realistic or visionary, Jansem is on a journey of absolute honesty. It starts with an immense love for life and humanity. This voracity makes him available for any display of life.
Jansem's universe has the face of serious awareness. His work, emerging with a rare force, is born of graphic and sensitive acrobatics. It is a domestication of the visible echoing his vision.
Jansem draws with color. Incisive to the point of simplicity, the line is the critical element and the sensitive medium, through which his painting reaches the truth.
The oil, worked in transparency, tends to abolish the idea of matter for a spirituality that testifies to Jansem's meditation from what he sees and makes him want to paint. A landscape, or more readily, objects, lovingly found in flea markets or torn from the oblivion of an attic, form silent sceneries poetically composed.
The line folds, hems, breaks in waves. Always unrestricted, it conquers the flat surface. Animated by a poignant lyricism, it is the signifying element and the sensitive expression, through which the drawing reaches the truth. Color, which gives space and light, intervenes like flesh embodied in pictorial matter.
Truth inhabits Jansem's world through his language and is elevated to the height of a style. Between observation and invention, painting commands. Jansem is its most eloquent magician.
Lydia Harambourg, April 2007
See some examples of works by Jean JANSEM available for sale
See the work of Modern Masters exhibited at the Estades Gallery