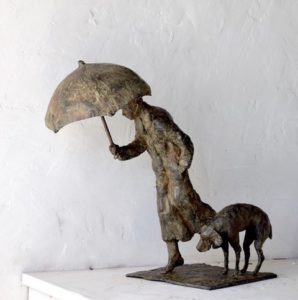 WHAT MICHEL ESTADES SAYS:
A passionate art dealer with 30 years' expertise, Michel Estades loves sharing his knowledge and enthusiasm for his favourite artists. His 4 galleries permanently exhibit many 20th and 21st-century figurative artists, including the world's greatest masters, masters from the Provencal and Lyon schools, modern and contemporary masters and a constant flow of talented new painters and sculptors.
BIOGRAPHY:
Upon leaving Paris, Marie-Laure GERARD-BECUWE moved her studio in Vaucluse, where she lives. She works in ceramics and sculpture.
– 1973. Met de Penninghen (ESAG)
– Sculpture studio, Paris Fine Arts
– In collaboration with sculptors Dominique Vial and Jonathan Hirschfeld, an internship in Paris.
Artistic approach:
Marie-Laure Gérard-Bécuwe works in wax. Once her figures become bronzes, they come to life freely or in steel structures.
Some are locked in huts, try to escape, fall, and get up again.
Between constraint and freedom, strength and fragility, balance and imbalance, they attempt to defy the burden of our daily lives and restore in all of us humor and poetry.
They are the source of stories that we may never know ho wit ends.
Her work is a kind of treatise on miniatures…
See some examples of works by Marie-Laure GERARD-BECUWE available for sale
See the work of Sculptors and Monumental Art exhibited at the Estades Gallery