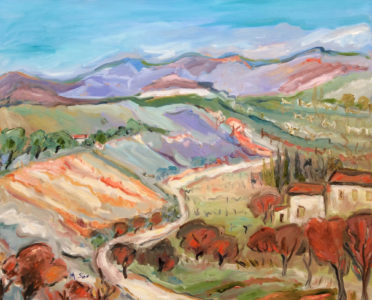 WHAT MICHEL ESTADES SAYS:
A passionate art dealer with 30 years' expertise, Michel Estades loves sharing his knowledge and enthusiasm for his favourite artists. His 4 galleries permanently exhibit many 20th and 21st-century figurative artists, including the world's greatest masters, masters from the Provencal and Lyon schools, modern and contemporary masters and a constant flow of talented new painters and sculptors.
BIOGRAPHY:
Marie Sion was born Maria Da Fonseca in 1956 in Portugal.
Marie Sion completed her secondary education at the lycée in Vila Réal, continued her French studies in Porto, and then decided to come to France.
Originally from the Douro valley, Marie Sion is entirely self-taught, refusing all influences. She paints Provence with the sweetness and intensity of her polychrome fugues. Her work is a fusion of her past and her current visions.
At home, bareness and emotions are painted in an authentic bouquet of happiness.
See some examples of works by Marie SION available for sale
See the work of Masters of Provence exhibited at the Estades Gallery