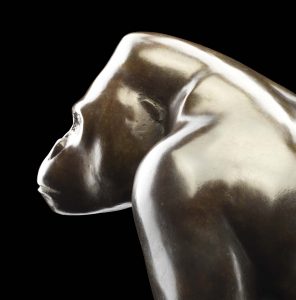 WHAT MICHEL ESTADES SAYS:
Michel Bassompierre is a figurehead in the world of contemporary animal sculptures, instilling this art form with his singular, unprecedented and unmistakeable style. Seductive and endearing, his work has travelled the world, unleashing his marble and bronze bestiary in the four corners of the globe.
BIOGRAPHY:
Captivated by drawing and modelling since his childhood days, Michel Bassompierre grew up in a large family. His mother was an artist and his father a scientist – a duality that may have influenced his work, characterized by a resolutely contemporary plastic approach associated with essential anatomical precision. He trained at the Leleu studio and Rouen Ecole des Beaux-Arts (School of Fine Arts), where he learnt how to observe, producing kilos of sketches at zoos, circuses and at the natural history museum in his quest to capture the brilliantly-articulated machine of the animal body and its lines and movements. And it is this extraordinary rendition of life that makes his work so moving. While drawings form the foundation of his work, modelling perfects it. Similarly to François Pompon, Michel Bassompierre rids himself of the anecdotal, retaining only the essential. Favouring animals with rounded shapes – Asian elephants, gorillas, bears and horses – he creates gentle yet precise silhouettes in which light never infringes upon shadow. This very physical relationship with his work also reflects his fascination with wildlife, untainted by anthropomorphism. His peaceful animals, seemingly surprised by our interruption in their private lives, are embodied by bronze or Carrara marble in keeping with traditional sculpture.
Michel Bassompierre's powerful works testify to his exceptional mastery of drawing, perfect understanding of volumes and poetic approach to light, giving the onlooker an irresistible urge to touch. His extremely delicate creations are also an ode to the artist's tenderness, profound respect and humility.
<em><strong>Exhibitions </strong></em>
<strong>2021</strong>
MEGÈVE : exposition d'œuvres monumentales / Hiver 2021 – 2222
COURBEVOIE : exposition d'œuvres monumentales au Festival international Atmosphères (cinéma, arts, sciences, pour un monde durable) / 6 – 10 Octobre 2021
PARIS : Expositions « Fragiles Colosses » au Jardin des Plantes, à l'invitation du Museum national d'Histoire naturelle / Mai – Octobre 2021
HONFLEUR : Expositions d'œuvres monumentales sur la Place Sainte-Catherine et au Grenier à Sel / Juillet-Août <em>2021 </em>
LYON : Exposition d'œuvres monumentales à l'Hôtel Intercontinental / Juin 2021
<strong>2020</strong>
COURCHEVEL : Exposition « L'Art au Sommet » / Hiver 2020-2021
TOULOUSE : Exposition d'une œuvre monumentale à la Cours des Consuls / Octobre 2020 – Février 2021
<strong>2019</strong>
HONFLEUR : exposition d'une œuvre monumentale sur le Port / Juillet – Octobre 2019
MONTIERS-EN-DER : Exposition au Festival international de la photographie animalière / 14-19 Novembre 2019
SAINT-MALO : Exposition d'une œuvre monumentale sur le Sillon – Grand Hôtel des Thermes / Eté 2019
<strong>2018 </strong>
RUEIL-MALMAISON : Exposition « Sauvages » / 28 Septembre – 9 Décembre 2018
DINARD : Exposition d'une œuvre monumentale à l'Hôtel Thalasso / Juillet – Novembre 2018
SAINT-MALO : Exposition d'une œuvre monumentale sur le Sillon – Grand Hôtel des Thermes / Eté 2018
SAINT-PETERSBURG (FLORIDE) : Exposition "The Society of Animal Artists" / Juillet – Octobre 2018 (Prix special de Evelyn et Peter Haller)
<strong>2016</strong>
SAULIEU : Exposition « I have a dream » au Musée Pompon / 10 Juin – 10 Septembre 2016
<strong>2015</strong>
SAULIEU : Exposition « Ours brun » au Musée Pompon / 9 Septembre – 31 Décembre 2015
<strong>2013</strong>
SAINT-JEAN-DE-MONTS : Biénnale de la sculpture / 7 Juillet – 25 Août 2013
<strong>2001</strong>
SAINT-JEAN-DE-MONTS : Biénnale de la sculpture / Eté 2001
<strong>2000 </strong>
PARIS : Exposition d'une œuvre monumentale au Museum national d'Histoire naturelle / Eté 2000
<strong>1999</strong>
NANTES : Exposition « Peintres et sculpteurs de Loire-Atlantique au Fil de l'Eau » à l'Hôtel du Département de Loire-Atlantique / 19 Décembre 1999 – 5 Mars 2000
<strong>1998 </strong>
PARIS : Salon des Artistes Français (Médaille d'Or)
PARIS : Invité d'Honneur du Cercle municipal des Gobelins et des Beaux-Arts. Mairie du XIIIème arrondissement / 28 Novembre – 12 Décembre 1998
<strong>1991</strong>
ANGERS : Salon (Grand Prix)
<strong>1990</strong>
PARIS : Salon des Artistes Français (Grand Prix)
<strong>1989</strong>
PARIS : Salon National des Artistes Français (Grand Prix)
BRY-SUR-MARNE : Salon National des Artistes Animaliers (invité d'honneur)
<strong>1988</strong>
PARIS : Salon des Artistes Français (Médaille d'Argent et Prix de la Fondation TAYLOR)
BRY-SUR-MARNE : Salon National des Artistes Animaliers (Prix Fernand Mery)
<strong>1987 </strong>
NANTES : Prix du Conseil Général de la Loire-Atlantique
See some examples of works by Michel BASSOMPIERRE available for sale
See the work of Sculptors and Monumental Art exhibited at the Estades Gallery