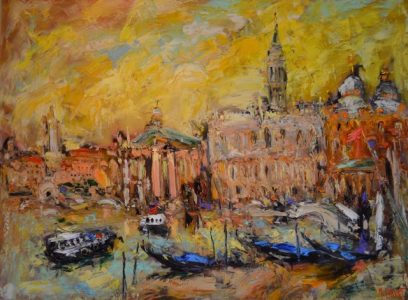 WHAT MICHEL ESTADES SAYS:
A passionate art dealer with 30 years' expertise, Michel Estades loves sharing his knowledge and enthusiasm for his favourite artists. His 4 galleries permanently exhibit many 20th and 21st-century figurative artists, including the world's greatest masters, masters from the Provencal and Lyon schools, modern and contemporary masters and a constant flow of talented new painters and sculptors.
BIOGRAPHY:
Michel Calvet was born in Toulouse in 1956. He studied at the local Fine Arts School.
His painting favors expression and movement. His art keeps the freshness and spontaneity of a watercolor "Alla Prima", and with the power so characteristic of his fervor. His paintings have varied subjects: carnivals, festivals, bullfights, fishermen's scenes, Moroccan sites. They all exude a very personal touch.
A Calvet painting can be at the edge of abstraction. Forms become spots of color. Colors call for other forms or become expressionist. However, regardless of how he treats it, none of his work leaves the viewer indifferent.
A real painter and an honest man, his art is not restricted by any trend and evolves continuously. The only constraint he imposes on his palette is to lure us into his universe of light and happiness.
See some examples of works by Michel CALVET available for sale
See the work of Modern Masters exhibited at the Estades Gallery