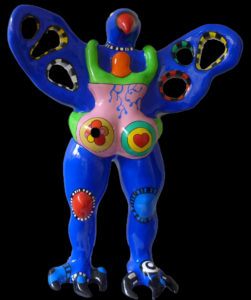 WHAT MICHEL ESTADES SAYS:
A passionate art dealer with 30 years' expertise, Michel Estades loves sharing his knowledge and enthusiasm for his favourite artists. His 4 galleries permanently exhibit many 20th and 21st-century figurative artists, including the world's greatest masters, masters from the Provencal and Lyon schools, modern and contemporary masters and a constant flow of talented new painters and sculptors.
BIOGRAPHY:
Niki de Saint Phalle, was born Catherine-Marie-Agnès Fal de Saint Phalle, in Neuilly-sur-Seine on October 29, 1930. She died in La Jolla, California, on May 21, 2002.
Niki is a French artist, painter, sculptor, and film director.
A model, and a mother, she was self-taught.
She did not have an academic education but developed her interest in art in abundant exchanges with her elders and contemporaries.
Motivated by various art trends, particularly "art brut", she started painting in 1952.
In 1961, she became member of the Nouveaux Réalistes group, along with Gérard Deschamps, César, Mimmo Rotella, Christo, and Yves Klein.
She had two children with Harry Mathews and later married artist Jean Tinguely in 1971.
Together, they created numerous monumental sculptures, either as a commission or solely for entertainment.
The Stravinsky Fountain in Paris was a state commission for Niki, and Le Cyclop, Jean's creation, on the outskirts of Paris, was completed without a building permit.
Les "Tirs", a series of performances, shooting at canvases, made her internationally famous in the 1960s.
Niki created numerous monumental outdoor sculptures.
Some were created on her initiative and with her own money, such as the Tarot Garden in Tuscany, or Queen Califia's Magical Circle in Kit Carson Park in Escondido, California.
States or regions commissioned others. Notably, in 1971, in Jerusalem, the municipality commissioned a children's monster, "The Golem", inaugurated in 1972 in Rabinovitch Park, which now bears the informal name of The Monster Park. In 1994, the Jerusalem Foundation commissioned another series of sculptures for the Jerusalem Bible Zoo. Niki produced a series of animals entitled Noah's Ark and completed the work in 1998. In 1987, French President François Mitterrand commissioned her for a fountain at Château Chinon.
Playing on her beauty and her talent for wearing strange outfits, the artist very quickly attracted the attention of the media, along with her companion and later husband, Jean Tinguely. However, while her apparent casualness fooled the media, art historians such as Catherine Morineau, Pontus Hultén, and Amelia Jones valued her strong, oversized, and risk-taking work.
Niki de Saint Phalle leaves behind an immense body of work she generously donated, particularly to the Sprengel Museum Hannover and the Musée d'Art Moderne et d'Art Contemporain de Nice.
She supported many political and social causes of her time, black America, women's liberation, AIDS, and dedicated herself to her companion's posterity by working for the opening of a Tinguely Museum in Basel.
See some examples of works by NIKI DE SAINT-PHALLE available for sale
See the work of Grand Masters exhibited at the Estades Gallery