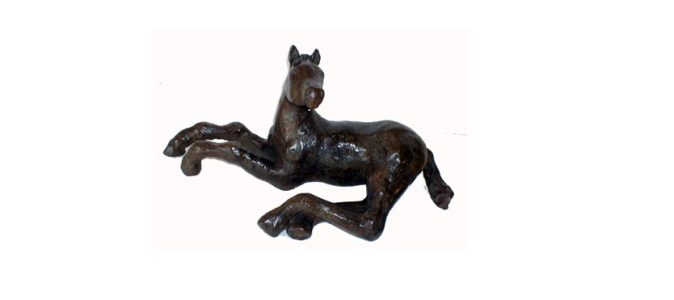 WHAT MICHEL ESTADES SAYS:
A passionate art dealer with 30 years' expertise, Michel Estades loves sharing his knowledge and enthusiasm for his favourite artists. His 4 galleries permanently exhibit many 20th and 21st-century figurative artists, including the world's greatest masters, masters from the Provencal and Lyon schools, modern and contemporary masters and a constant flow of talented new painters and sculptors.
BIOGRAPHY:
PAM was born in 1957 near Lyon. Donkeys and horses inspired her first works. Later, PAM extended her work to other animals. Her sculptures won awards at the 2000 and 2005 Salon International de Saumur. In 2005, the city of Tarbes acquired the monumental sculpture "Grand Timmy". Her bronzes are part of the Estades Gallery's permanent collection. In 2006, she was the guest of honor at the Pompon Museum in Saulieu.
"The donkeys came to my house the year I discovered the sculpture", she says. "Their presence invaded my life, my heart, and my work. Their unusual character never ceases to inspire me and reveal important values that are dear to my heart and for which they are wonderful ambassadors".
Instantly, I felt invested by the critical mission of giving donkeys a place in art, similar to that of a horse. The task is immense. The usual representation of pitiful, unhappy, and humiliated donkeys is unbearable to me.
When I grab clay to start a sculpture, my concentration comes slowly.
My hands guide me and I begin to remove a little bit of ground here and there. Little by little, a shape starts to appear. It is the moment when I discover the sculpture that was waiting in the warmth of the clay. I always move back and forth between the workshop and the meadow where they are, the meadow, and the workshop.
My eye drinks each of their gesture and expression. I caress them to check a hollow, a bump. They love it and willingly lend themselves to a game they know. The skin of my fingers, palm of my hands, peeled by the ground I just crushed, get inebriated by each of their hairs I memorize and restore in each relief.
Finally comes the even more gratifying moment when the shape of the sculpture is almost finished.
However, this is the most critical moment. Now, I have to return to my donkey, no longer to check its "envelope", but to let its spirit, its personality, its sweetness, humor, and love impregnate me, transfer it in the sculpture and give it its soul."
WFP. Carte blanche à PAM "L'âne bleu" n°44, December 2001.
See some examples of works by PAM available for sale
See the work of Sculptors and Monumental Art exhibited at the Estades Gallery