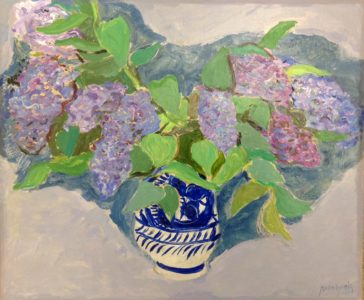 WHAT MICHEL ESTADES SAYS:
A passionate art dealer with 30 years' expertise, Michel Estades loves sharing his knowledge and enthusiasm for his favourite artists. His 4 galleries permanently exhibit many 20th and 21st-century figurative artists, including the world's greatest masters, masters from the Provencal and Lyon schools, modern and contemporary masters and a constant flow of talented new painters and sculptors.
BIOGRAPHY:
Pierre Boncompain was born in Valence in 1938. He studied at the Lycée Émile Loubet and the Collège Saint-Joseph in Avignon.
1959. National School of Decorative Arts (top of his class)
1963. National School of Fine Arts. Legueult's studio. Collioure Prize
1970. Grand Prix de la Critique. Selected for the Charles-Parquement des Amis du Musée d'Art Moderne.
1972. Lourmarin Castle Foundation, internship
1977. Educational mission in India, along with writers Michel Tournier and Robert Sabatier.
From 1961 onwards, he exhibited regularly. In addition to a permanent display, ArtFrance in Paris has held personal exhibitions of his works every three years since 1976. He also had numerous exhibits in France and abroad.
Of particular interest:
– 1975,1978, and 1979. David Findlay Gallery, New York (USA)
– 1982 and 1986. Galerie Bellefontaine, Lausanne (Switzerland)
– 1985. ArtFrance. Danis Stinson Gallery, Palm Springs (USA)
– 1988, 1998, and 2001. Traveling exhibitions in Japan. Organized by the Kajikawa Gallery, Kyoto
– 1995,1996, and 1999. Bruton Street Gallery, London (UK)
– 1996-2000. Hammer Gallery, New-York (USA)
– 1990. Chenonceau Castle (France)
– 1991. Spiral center, Tokyo (Japan)
– 1980. British Petroleum headquarter, Antwerp (Belgium)
– 1998. Palais Carnolés museum, Menton (France)
– 1998: Navio Museum, Osaka (Japan)
– 1997- 2001. Singer museum, retrospective. Laren (Netherlands )
– 1977- 1993- 2005. Valencia museum, Valencia (Spain)
– 2002. Johnson and Johnson Foundation. Mural. Hamilton, NJ (USA)
– 2002. Museum of Modern Art. Retrospective. (3oo,ooo visitors) Shanghai (China)
– 2007. Académie de L'art de Vivre. member. The academy was created by Jean Cocteau, Paul Morand, and Pierre Benoît.
See some examples of works by Pierre BONCOMPAIN available for sale
See the work of Modern Masters exhibited at the Estades Gallery