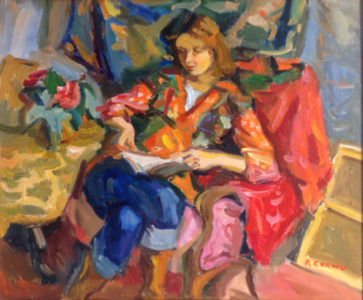 WHAT MICHEL ESTADES SAYS:
A passionate art dealer with 30 years' expertise, Michel Estades loves sharing his knowledge and enthusiasm for his favourite artists. His 4 galleries permanently exhibit many 20th and 21st-century figurative artists, including the world's greatest masters, masters from the Provencal and Lyon schools, modern and contemporary masters and a constant flow of talented new painters and sculptors.
BIOGRAPHY:
Pierre CORNU was born on November 16, 1895, in Salon de Provence. From a well-to-do, oil, and soap trader family, Cornu had a pampered and carefree childhood. Drawing and color attracted him at a young age. He was lucky enough to be able to dedicate himself all his life to his true passion, painting. His paintings were featured in all the great Parisian salons. He regularly exhibited with Auguste Chabaud and René Seyssaud in Marseille.
Financial concerns forced him to exile in Morocco for a few years.
He started a new life, but never abandoned painting. He perfected his art in an abundance of beautiful colors, echoing oriental tapestries. Back in France, he resettled near Aix en Provence. He exhibited in the region and its surroundings and was recognized by all. His studio visits were famous, and he never ceased to paint until his death.
All his life, he was a true hedonist, attracted to women, and their radiance. He was in love with Provence, whose light magnifies the colors. His optimism and serenity allowed him to create a voluptuous and soft painting. Along with his attraction for female company, P. Cornu was a talented portraitist and an excellent still-life painter, especially flowers and a landscape artist.
Of all the genres, the only topic worthy of interest for him was beauty, which he always knew how to discover, idealize, and eternalize.
Like Bonnard, he seemed to have painted only for the joy of painting. However, he also wanted to remember, present, and share joyful times.
Jean Perreau. "Cornu, la volupté sereine." Michel Estades Gallery publisher.
See some examples of works by Pierre CORNU available for sale
See the work of Masters of Provence exhibited at the Estades Gallery