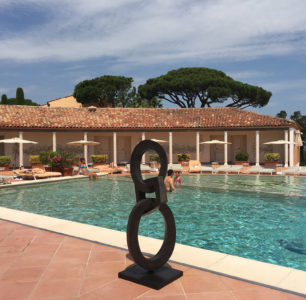 WHAT MICHEL ESTADES SAYS:
A passionate art dealer with 30 years' expertise, Michel Estades loves sharing his knowledge and enthusiasm for his favourite artists. His 4 galleries permanently exhibit many 20th and 21st-century figurative artists, including the world's greatest masters, masters from the Provencal and Lyon schools, modern and contemporary masters and a constant flow of talented new painters and sculptors.
BIOGRAPHY:
Victoire d'Harcourt was born in Bordeaux in 1966.
France, Tahiti, and Madagascar influenced her taste for space and color.
1985 Ecole du Louvre
1997 School of the Museum of Decorative Arts
2001 Paul Fleury workshop
2007Joined studio with 2 other artists
2008 Isabelle Laverny gallery
2008 Garches Fine Arts Fair
2008 Garches Fine Arts Fair
2009 Restaurant Toi, Paris. Painted photograph
2011 Galerie Gien, Brussels
2010 2011 2012 Gallery 117, Paris
2013 Gallery 41, Paris
2014
Art St-Germain des prés
Tea or Coffee" programme France2 15 June 2014
Salon des réalités nouvelles Paris
National Gallery of Fine Arts in Beijing
GUOYI ART MUSEUM
2015
OFI Asset Management. 22 rue Vernier 75017 Paris
Prince&Princess gallery 96 rue de Grenelle 75007 PARIS
Salon des réalités nouvelles Paris
Hotel de Croisilles Paris
2016
Isabelle Laverny gallery. Paris
Bradcast " Thé ou Café " France 2 TV. Paris
Prince&Princess gallery, Paris
2017
Maison d'art Clauzel Amélie
Isabelle Laverny gallery. Paris
2018
Barnes
Hôtel du castellet & Galerie Estades
Gallery Isabelle Laverny
Affordable Art Fair, Amsterdam
2019
Affordable Art Fair Brussels
Isabelle Laverny gallery
Initially, smart circles tangle up gently in each other. Solid and sure of themselves. Stable and united forever. What could be more soothing than these unbreakable, indissoluble bonds that give the feeling that nothing will separate them? Everything seems so well established and so lasting. We are comforted.
However, on closer inspection, this control is more fragile than it seems, and these great circles are hanging on by a thread. United or free? It is too late, and the artist has chosen. Impossible to separate at the risk of breaking everything. The quest for freedom is impossible. We are handcuffed, alienated.
The work of Victoire d'Harcourt often represents a double feeling that links strength and fragility as a whole and whose balance is precarious. It is not so much the links between them that pose a problem; it's what they are based on.
See some examples of works by Victoire D'HARCOURT available for sale
See the work of Sculptors and Monumental Art exhibited at the Estades Gallery