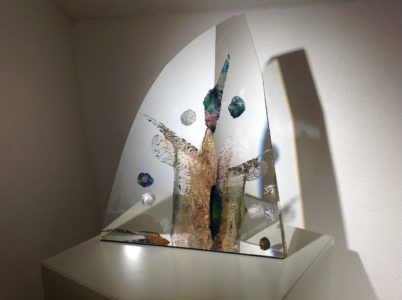 WHAT MICHEL ESTADES SAYS:
A passionate art dealer with 30 years' expertise, Michel Estades loves sharing his knowledge and enthusiasm for his favourite artists. His 4 galleries permanently exhibit many 20th and 21st-century figurative artists, including the world's greatest masters, masters from the Provencal and Lyon schools, modern and contemporary masters and a constant flow of talented new painters and sculptors.
BIOGRAPHY:
Born on November 13, 1944, in Zdiar, Slovakia, Yan Zoritchak studied at the Zelezny Brod Higher School of Applied Glass (1959 – 1963) and the University of Applied Arts in Prague (1963 – 1969). There he learned traditional Czech and Slovak glassmaking and modern techniques of contemporary creation. At that time, Bohemian glass was famous worldwide. The 1960s in Czechoslovakia were free and inventive. The booming glass industry innovated in applied art, industrial production, free design, and architecture.
Yann's works bear the characteristics of the sixties' elegant aesthetics, recognized today as a style. The artist exploits glass's optical and structural qualities, using non-traditional methods of handling the material. He gradually discovered a new artistic direction that allowed him to intensify its representation through forms and light. He completed his education under Professor Stanislav Libensky.
The young artist showed a particular interest in space and the genesis of the universe.
It became the central theme of his composition, in a decade full of important space discoveries beginning with the first man's first flight in space and ending with the first landing on the moon in history.
Since 1970, Yann Zoritchak has been living and working in Talloires in France. He plays a significant role as an arbitrator in the European glass community. His creations can be found in many public and private collections around the world.
Yan Zoricahk has exhibited his work in major exhibitions of contemporary art and glass art. He is the recipient of prestigious international awards. In parallel to his creation, he participated in many symposiums. He was instrumental in the foundation of the International Center for Research on Glass and Art at the School of Fine Arts of Aix en Provence.
He is a Knight of the Order of Arts and Letters of the French Republic.
Yan Zoritchak grants us a unique journey in the heart of space, time, the origin of life, and man's place in the universe. It reminds us that we are only dust powder that arose billions of years ago and that the mysteries of life will undoubtedly remain a topic that we will continue to investigate for a long time.
Zoritchak takes us back and forth between astronomy, biology – as human cells are surprisingly close to the arrangement of the cosmos, and contemporary art.
He plunges us into the magic of the ether and reproduces a unique work and a hymn to beauty in the language of art. Although being abstract, his work is based on dependable scientific research.
We witness in amazement the open universe mystery of the beginning of life.
The sculptures are immaculate, light, enriched with movement, dynamic flow, bright colors, or hazy.
The artist said, "It is up to the public to see the mysteries of life, guess them, and eventually accompany me on my journey, to question this magic of life, its conception, its protection, its development, and its end."
Some fundamental questions still need to be addressed. Are we alone, or are they other civilizations besides ours? Can we coexist and communicate across the universe?
Sculptor Zorichak reacts in his way to these burning mysteries by creating a large body of work. Space, symbol, celestial flower, and mystery of life are inspired by the universe, human knowledge, and philosophical speculation.
Science has provided a solid foundation for his quest.
Zoritchak uses glass to transpose his universe. Glass was the first material created by man thousands of years ago. Glass makes it possible to materialize space and emptiness. Fusing, abrading, cutting, and polishing, Yan Zoritchak managed to integrate metal, gold, silver, and copper leaves in the crystal.
Thus he creates fascinating microcosms. He seems to confine part of the cosmos in his work and offers us an odyssey in space. His sculptures are dreamlike, majestic, a world of wonders and poetry, inviting the visitor to enjoy.
See some examples of works by Yan ZORITCHAK available for sale
See the work of Sculptors and Monumental Art exhibited at the Estades Gallery