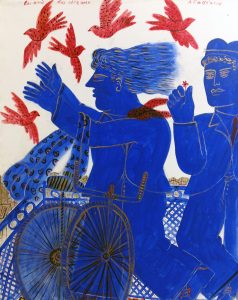 WHAT MICHEL ESTADES SAYS:
Alecos Fassianos is a Greek painter who remains deeply attached to France, where he used to live. His work, instilled with poetry and fantasy, portrays the contemporary world through a mythological lens. His delicate and light-filled paintings are an invitation to travel and dream.
Alecos Fassianos biography:
Born in Athens, Alecos Fassianos studied at the Athens School of Fine Arts from 1956 to 1960 with Yannis Moralis. Then, he got a scholarship from the French government and moved to Paris from 1960 to 1963. There, he studied lithography at the National Fine Arts Institute in Paris. He met artists and writers who would leave their mark on the time. Louis Aragon commented on his works, and Jean-Marie Drot, who later devoted a monograph to the artist entitled "La volupté mythologique" (Mythological Voluptuousness).
Alecos returned to his native country, and he worked for various Greek magazines. His first one-person show was in Athens. Following the 1967 dictatorship coup in Greece,
Alecos Fassianos went into exile in Paris.
Fascinated by the originality of his work, Paul Facchetti gave him an exhibit in 1969 and published a series of engravings and lithographs executed between 1968 and 1971.
Alecos Fassianos' work
The work of Alecos Fassianos is a combination of pictorial stories, borrowing themes from Greek mythology and the modern world. His tales focus on the Mediterranean's ochre and bluish hues.
Alecos created sets for great classical, and modern theatre plays for such occasions as the Athens festival. Inspired by his graphic research, his "Small Theatre of Shadows and Forms" was introduced at the "Revue parlée" in Paris at the Centre Georges Pompidou in 1983.
He produced numerous bibliophile books (Editions A. Biren and Fata Morgana) that are today sought after by collectors.
Known internationally, Alecos Fassianos exhibits all over the world in places like Paris, Athens, Tokyo, New York, Stockholm, Malmô (Sweden), or at the São Polo biennial, in Venice, Berlin (Herrmann Gallery), and in Australia (Melbourne, 2011).
Alecos Fassianos and mythology
Alecos Fassianos is considered today as one of the greatest contemporary Greek artists. In 2004, he returned to Athens, where he now lives and works.
France remains his second home, and he regularly exhibits his new work there. Since 2002, he is part of the permanent collection on the four sites of the Estades Gallery, in Paris, Lyon, Toulon, and Baden-Baden (Germany).
Between the gods of Olympus' mythology and the endless movement of our modern world, Fassianos carefully mixes his influences and obsessions.
His images and subjects bathed in light sing of Ancient Greece and evoke its mythical gods.
Alecos Fassianos is a painter of the sun and immerges us into the luminous and warm atmosphere of his canvas. His palette favors all variations of blue, from the brightest to the palest dancing with vermilion red, deep green, gold, silver, and ochre.
Alecos Fassianos, the value of his work
Alecos Fassianos. Value of his artwork
It is not always easy to put a value on the work of a modern or contemporary artist like Alecos Fassianos. There are so many parameters to consider: painting, bronze sculpture, gouache, watercolor, oil on canvas, the artistic techniques are many, and his talent diverse. As much as the artwork itself, its price can also create surprises.
In the buying and selling art world, modest works can sell for a few hundred euros while other more critical works can sell for several thousand euros. It is particularly true for artists like Alecos Fassianos. Confronted with such a wide price difference, some art lovers sometimes get confused.
And whether you are an experienced art buyer, a collector, an investor or only a passionate individual, asking yourself what justify these prices is entirely legitimate.
So, how is the price of an artwork by artists like Alecos Fassianos established? The experts who are going to set its value will take into account several parameters:
The sale of his work in prominent auction houses, the scarcity of the product, the work's date of creation (some periods of an artist's career are more valuable than others), material, and technique used.
Also entering an expert's valuation: artistic and media notoriety (his impact in the history of art, his boldness, his creativity, his inventiveness.), recognition of his work by his peers, art experts, gallery owners, specialized cultural institutions, etc.)
Alecos Fassianos. How to estimate the value of his work.
Experts and professionals will take into account several parameters to establish the value of an artwork.
To determine the cost of an oil on canvas or a lithograph by Roland Chanco, art experts, gallery owners, or auctioneers have to research the latest selling prices for similar work.
To estimate a work by an artist such as Alecos Fassianos,
what other criteria can be useful?
Its uniqueness.
Is it a unique work unique in the artist's career? Does it belong to a lot or a series?
Its condition.
The artist's signature. Has the artist signed the work?
The dimensions of the work.
Indeed, logically, the larger the work, the more expensive it is, It explains why small artworks such as lithographs are more affordable. So-called "monumental" sculptures are indeed quite expensive.
The artwork theme.
Some artists have favorite themes part of their artistic identity. They will be more sought after by buyers.
His technique.
Oil on canvas is expensive. For sculpture, the price of the artwork will depend on the material, wood, bronze, glass, or other. The cost of raw material has an obvious impact.
For example, an oil on canvas by Alecos Fassianos will sell between € 8,000 and € 40,000. A lithograph or a print will sell between € 1,500 and € 4,500.
How to authenticate Alecos Fassianos' work?
You own an original work by Alecos Fassianos, and the artist himself has signed it. It is a first positive sign of a smooth authentication. The signature of a work of art is indeed a key element in the authentication process, but beware; it is not a complete guarantee of its authenticity.
Why not? Because, if the artists' work can be duplicated, so his signature.
Many modern and contemporary artists such as Roland Chanco are subject to fake copies. A certificate of authenticity is required so that the work can be sold on the art market and get the best possible price. An expert specialized in the artist's work, an auctioneer, or a gallery owner can sign this certificate of authenticity.
Buy or sell an Alecos Fassianos' artwork
Private sales allow safer and more confidential transactions.
Sell or buy with professional gallery owners and real art experts. Their expertise and tailor-made advice will guide you in selecting this unique purchase.
Auction sales are valued because they bring the opportunity to acquire artworks at a competitive price.
They can also be an opportunity to buy lots.
However, this process requires a significant commitment on your part.
Print, drawing, lithography, oil on canvas, gouache, watercolor, pastel, sculpture, the Estades Gallery offers to its customers enthusiastic about art the possibility of acquiring significant artworks by some renowned contemporary artists such as Alecos Fassianos.
Above and beyond an artwork sale or purchase, the Estades Gallery offers you a unique place to enjoy art and guide you in your art investment.
See some examples of works by Alecos FASSIANOS available for sale
See the work of Grand Masters exhibited at the Estades Gallery