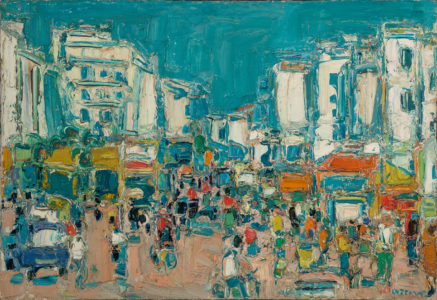 WHAT MICHEL ESTADES SAYS:
André Cottavoz is a painter and lithographer who belonged to the Sanzistes group and Paris School. His figurative work is powerful and quasi-carnal, pouring forth a flamboyant radiance accentuated by the sheer thickness of his paint, literally sculpted with a knife.
André Cottavoz biography:
The early years
André Cottavoz was born in Saint-Marcellin in Isère, the first child of the young Marguerite who was just 18 years old. He manifested his passion for painting from adolescence. His mother, who was a watercolorist, encouraged him in this path, bought him colors, and took him to paint with her in nature. He experimented with copying landscapes. The reproduction of a Vincent Van Gogh painting that he discovered in a shop window was a revelation. Back home, he borrowed a knife and started to paint, or rather sculpt the material, a practice that never left him. At the age of 18, he enrolled at the Beaux-Arts in Lyon to continue his apprenticeship. During his first year there, France plunged into the chaos of World War II. The young man was drafted into the French mandatory labor force (STO) in Austria. Working conditions were difficult, and life was hard. Everyone resisted as best they could. Painting saved André Cottavoz.
André Cottavoz and Sanzism
Strongly marked by his years of captivity, André Cottavoz found it challenging to adapt to his new life after the war.
Urged by his mother, he returned to Lyon and reintegrated the School of Fine Arts. In 1948, he organized the first exhibition of "Sanzists" at the Chapel of the Ampère High School in Lyon with his student friends, Jean Fusaro, Jacques Truphémus, Georges Adilon, and Philibert Charrin in particular,
Sanzists is a term by which the participants expressed their opposition to bear any label. "Sansisme", neither impressionism, fauvism, nor cubism.
Lyon gave them a lukewarm welcome. Although they began to make themselves known in the area, the Ecole des Beaux-Arts in Paris became the movement's leading supporter, and thanks to the meetings that followed, enabled the young artists to approach galleries and connect with art lovers.
André Cottavoz's art
Sanzism" or the "New figuration of the Ecole de Lyon" favors a light that is not just natural, but that gushes from the canvas itself. André Cottavoz adheres to its principle while adding to it his personal touch. He submits the subject, whatever it is, to a perception of thickness obtained by superimposing layers, mixing, kneading them with a brush, a knife, or by hand. "Painting is almost sculpting," he says. His canvases reflect his singular vision of places and of the South of France, which he particularly likes. He also explores other techniques such as engraving and lithography. His works have been acquired by many museums in France and abroad, notably in Japan. Since 1990, his work is on permanent exhibit at the four sites of the Estades Gallery, in Paris, Lyon, Toulon, and Baden-Baden (Germany).
André Cottavoz. Artwork price
The art market establishes the value of André Cottavoz's work or any other modern artist for that matter.
Art experts, gallery owners, or auctioneers base their estimate according to specific parameters and study similar work's latest selling price.
To estimate a work by an artist such as André Cottavoz, one will look for several specific criteria:
– The dimensions of the work.
– The theme of the work.
– The technique used.
– Its rarity.
– Its condition.
– The artist's signature.
These criteria will help define the value of the work and the price at which it can be sold.
For example, an oil on canvas by André Cottavoz will sell between € 3,000 and € 25,000.
Buy or sell an original André Cottavoz artwork
Would you like to buy or sell a work André Cottavoz ? you are in the right place.
Michel Estades is an expert on the works of André Cottavoz, a reference art expert for this artist. Buying a painting by André Cottavoz (oil on canvas) at Galerie Estades guarantees the authenticity and the quality of the work.
Authenticate an artwork by André Cottavoz.
To authenticate your work, you can send us a request to estades1@gmail.com.
See some examples of works by André COTTAVOZ available for sale
See the work of Masters of Lyon exhibited at the Estades Gallery