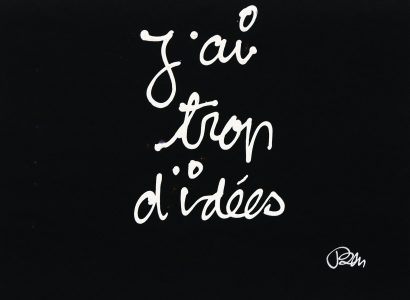 WHAT MICHEL ESTADES SAYS:
Is everything art? Ben's provocative question shines the spotlight on one of the greatest conundrums in the history of art. A major 20th-century artist, Ben's hugely popular work uses written words and flaunts an irresistible blend of pertinence and impertinence. "Art is useless, go home".
Ben. Artist biography:
Benjamin lived the first five years of his life in Naples. After the declaration of war in 1939, Ben and his mother traveled extensively in places such as Switzerland, Turkey, Egypt, Italy. Finally, they settle in Nice in 1949. His mother found him a job at the bookstore "Le Nain bleu" as an errand boy and then bought him a bookstore after he finished his education.
In the late 1950s, by then known as Ben, he decided to open a new store offering, among other things, used records. Soon, his shop became a meeting and exhibit place for the members of what would become the School of Nice: César, Arman, Martial Raysse… Together, they aspired to continue Marcel Duchamp's legacy and push the limits of art, in the footsteps of John Cage or the Dada movement.
The birth of Ben's " writing"
Back in 1953, Ben wrote his fateful "Il faut manger, il faut dormir" (We need to eat, we need to sleep). With this simple and unsophisticated summary, he created his first "writing".
To better speak and question art, he decides to write it down, and make writing a visual art form.
This way, he entered the universe of conceptual art, an art form that had not been developed yet. His white letters on a black background handwritten jokes and subjects such as ego, truth, or even ethnicity started to ring like real jingles.
Ben does not abstain from expressing his feelings on current world affairs and he designs many products based on tools, bags, or calendars, always stamped with his trademark.
He succeeds in giving his art a conceptual dimension, while at the same time putting it within reach of everyone. The "Ben" diaries published by Quo Vadis were very successful with schoolchildren all over the country, from Paris to Nice.
Captivated by the singularity of his art, Michel Estades has exhibited Ben's work in his galleries for several years.
Ben. A committed contemporary artist
Highly involved in the contemporary art scene, he has always supported young artists. In his regular and prolific newsletter, he likes to give his point of view on all current events, whether cultural, political, social, or artistic.
A close friend of the artist Yves Klein, and animated by the New Realism's spirit, Ben promotes the idea that "art must be new and shock the audience.
A vision he contributed to promoting in many of his writing.
In 1965, he created a gallery dedicated to contemporary art. "Ben doute de tout" as it was named, exhibited various artists.
Since 1975, he has been living and working on the heights of Saint-Pancrace, in Nice. Ben's works can be found in the world's largest private and public collections, including the MoMA in New York, the Art Gallery of New South Wales in Sydney, the MUHKA in Antwerp, the Musée National d'Art Moderne in Paris and the Musée d'Art Moderne et d'Art Contemporain in Nice.
Since 2018, his work has become part of the permanent collection exhibited at the four sites of the Estades Gallery, in Paris, Lyon, Toulon, and Baden-Baden.
BEN. Value of his work
BEN. Price range
The way in which an artist like Ben (Benjamin Vautier) is rated and how he has evolved is sometimes difficult to understand.
Whatever the artistic technique used: painting, sculpture, drawing, lithography… The price range of a work of art can sometimes reach millions of euros, it all depends on the artists and the mediums of expression used.
This is the case for Ben. A collector and art buyer can find himself baffled by such price differences.
So how do you explain the popularity of an artist like Ben? It all depends on the following elements: the artist's notoriety in the media and artistic circles (his contribution to art history, his innovation…), the recognition of his work (notably by art experts, gallery owners, cultural institutions…), the sale of his works in major auction houses, the rarity of a work, the date of its execution (some periods of life are more highly rated than others), the materials and techniques used…
A drawing by Ben (Benjamin Vautier) can be purchased between € 2,500 and € 3,500.
Ben, Authenticating his art
Do you own a work signed by Ben? The signature is the first step in its authentification. Unfortunately, "signed" and "authenticated" don't necessarily add up because a signature can be reproduced.
For many artists like Ben, who are often copied, a certificate of authenticity is required to sell the work on the art market and get the best value. An expert specialized in the artists' work must sign a certificate of authenticity.
Purchase or sell an original Ben artwork.
Would you like to buy or sell a work of art by Ben?
Here are some options.
You can get artwork at the best price during a public auction or buying the art in bulk. However, this process requires a serious commitment on your part.
Private sales between individuals allow for a more muted and confidential transaction with gallery owners and real art experts.
These specialists' trained eye and tailor-made advice will guide you and help you make this exceptional purchase.
The Estades Gallery gives you the opportunity to acquire major works by Ben, whether prints, drawings, original signed lithographs, or oils on canvas.
Beyond buying and selling art, the Estades gallery offers advice and guides your art investment, whether you are an enthusiastic amateur or a dedicated collector.
Ben. Artwork valuation
To determine the price of a drawing by Ben or any other artist on the art market, art experts or auctioneers use a database and study the latest selling prices for similar works. They examine a set of precise criteria. Work dimension, theme, medium, materials being used, the uniqueness of the work, and its state are significant factors determining the artwork price.
See some examples of works by BEN available for sale
See the work of Contemporary Masters exhibited at the Estades Gallery