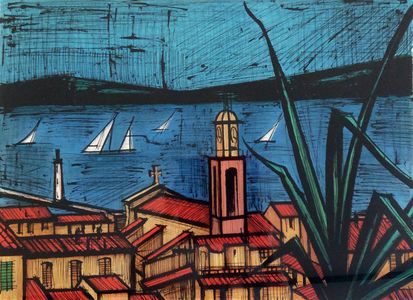 1. Themes
Buffet held an annual thematic exhibition at the Maurice Garnier Gallery.
Between 1952 and 2000, every February, the Gallery featured a new theme by Bernard Buffet
1952 – The Passion of Christ
1953 – Landscapes
1954 – Interiors
1955 – Horrors of War
1956 – The Circus
1957 – Landscapes of Paris
1958 – Joan of Arc
1959 – New York
1960 – The Birds
1961 – Portraits of Annabel
1962 – The Chapel of Château l'Arc
1963 – Venice
1964 – The Museum of Bernard Buffet
1965 – The Tormentors
1966 – Women undressed
1967 – La Corrida
1968 – The Beaches
1969 – Churches of France
1970 – Castles of the Loire Valley
1971 – Les Folles
1972 – Danièle and Virginia
1973 – The Boats 1974 – Landscapes
1975 – Landscapes
1976 – Snow Landscapes
1977 – Dante's Inferno
1978 – The French Revolution
1979 – Flowers
1980 – Nude
1981 – Japan
1982 – Self-portraits
1983 – Landscapes
1984 – Small sizes
1985 – The automobile
1986 – The Netherlands
1987 – Views of Venice
1988 – Sumo and Kabuki
1988 – Still Life
1989 – Don Quixote
1990 – Twenty Thousand Leagues Under the Sea
1990 – Brittany
1991 – Views of New York
1991 – Memories of Italy
1992 – St. Petersburg
1993 – The Empire or the Pleasures of War
1993 – Promenade Provençale
1994 – The Odyssey
1995 – The Seven Deadly Sins
1996 – Beijing
1997 – Regattas
1998 – The house
1999 – My Monkeys
2000 – Death
In 1978, the Postal Services commissioned Bernard Buffet for a model of a three-franc stamp: the Institute and the Pont des Arts. In 1991, he was commissioned for a 25.70 francs stamp: Piste de la Terre Adélie, published by the French Southern and Antarctic Lands Administration.
2. Style
The artist describes painting this way: "Painting is not spoken about, it is not analyzed, it is felt". Bernard Buffet's success is due to the synthesis he achieved between modern pictorial forms and traditional subjects. His style, like his signature for that matter, is easily identifiable by his technique of straight and dry lines covering the canvas.
The figures are systematically elongated. His palette was first composed of grey, ochre, black and brown. After 1958, it exploded in color but he reverted to his more familiar style of harmonies and dull colors after the 1970s
3. Techniques
As a complete artist, Buffet created numerous works using various painting techniques: oil, watercolor, Indian ink, pencil, as well as various printmaking techniques (etching, drypoint, lithography).
He produced his first lithograph titled "Les Chardons in 1952 ". The artist had his work printed in Switzerland, at Maisons Arts Graphiques in Lausanne, Berto in Marseille, and Marcel Durassier in Paris. He worked closely with the great Maison MOURLOT, a famous lithography studio that was also frequented by Joan MirÓ, Henri Matisse, Marc Chagall, and Pablo Picasso.
The Estades Gallery presents a permanent collection of lithographs of exceptional quality resulting from this fruitful collaboration.
Discover below his various works including many lithographs!