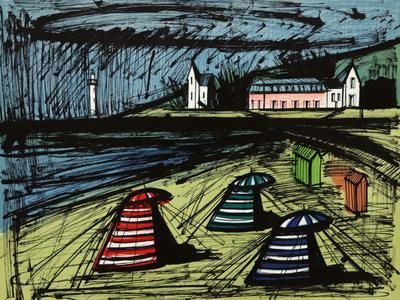 "The greatest French painter" of the 20th century
Bernard Buffet had a singular destiny.
This painter of genius achieved fame at a very young age but was soon caught in the whirlwind of fame and was the subject of much controversy. Today, the greatest names in contemporary art such as Andy Warhol spoke of him as "the greatest French painter" of the 20th century.
Bernard Buffet presentation
We don't talk about painting, we don't analyze it, we feel it.
Bernard Buffet is one of the greatest contemporary expressionist painters. Admired by some, questioned by others, the Buffet style deeply marked the painting of the dark post-war periods. Many painting enthusiasts call him a painter of genius. At the age of twenty, he was awarded the Prix de la Critique. Bernard Buffet had an austere vision of the world that he evoked tirelessly throughout his pictorial journey: a long parade of slender figures, austere looks, and faces tortured by pain and the harsh trials of existence.
Bernard Buffet biography
Bernard Buffet's biography is dizzying as it is extremely dense and marked by several important dates. Buffet was born in Paris in 1928. His older brother and he were raised in strict respect of moral and religious values. Bernard Buffet lived through the Nazi occupation, deprivation, and the torments of war. At fifteen years old, his teachers already considered him to be an outstanding student, particularly precocious and talented. He entered the School of Fine Arts very young. In the 1950s, an increasingly large number of collectors treasured his style of painting. The private life of the painter fascinated the public and this handsome, introverted man of a dignified and fascinating nature quickly made the headlines of the popular press of the time.
Bernard Buffet's painting themes
Throughout his career, Buffet did not deviate from his style. His favorite themes remained women, circus, naked men, landscapes, and still life. In 1952, Bernard Buffet started to work on his first lithographs and engravings. At the request of Doctor Girardin, a dedicated collector, he did one hundred and twenty-five drypoint engraving to illustrate Lautréamont's Chants de Maldoror, a work that was edited by Les Dix. Bernard Buffet's lithographs quickly became known throughout the world.
Bernard Buffet's theme exhibitions
From the beginning of his career, Bernard Buffet organized annual theme exhibitions at the Garnier gallery. The themes were varied, religion (the Passion of Christ), allegory, literature (Twenty Thousand Leagues Under the Sea) etc. Retrospectives of his work were also held in major cities around the world, Tokyo at the Odakyu Museum in 1995, Kaohsiung city in Taiwan in 1996, Am Museum of Fine Arts in The Hague in in 2006, etc.
Bernard Buffet art
Some call Bernard Buffet a painter of genius, others consider him to be a prolific painter because he produced an astonishing number of works, more than 8000 altogether. Still lifes, clowns, religious scenes etc. In spite, or because this prodigious artistic production, Bernard Buffet's work is still highly prized by art enthusiasts and collectors around the world. The French public has an insatiable fascination for him and exhibitions dedicated to the great painter always draw large crowds
Bernard Buffet lithographs
Bernard Buffet was a complete artist and mastered many techniques. At the same time, engraver, lithographer, and illustrator, he left a mark of genius on many of his lithographs. He also created theater sets for plays such as "La voix humaine" by Jean Cocteau. Bernard Buffet was an exceptional painter, who not only represented an artistic current and an era in France but also the world of painting at an international level.
Bernard Buffet, the theme of the clown
Faces and portraits of clowns are among Bernard Buffet's favorite themes. These works, especially the sad clowns, have greatly contributed to the painter's fame throughout the world. Bernard Buffet's many portraits of clowns are in fact self-portraits of the artist. They are the translation of his deep anxieties, existential contradictions that marked his existence. The price of the clown collections quickly reached dizzying heights, taking the painter to the heights of success.
Bernard Buffet and Provence
Throughout his life Bernard Buffet was fascinated by beautiful homes. First, he acquired Château L'Arc near Aix en Provence and then the famous Domaine de Tourtour where he lived years of happiness with Annabel Schwob, his companion and muse. The place inspired many of his paintings. Today, on Tourtour's village square, visitors can discover two bronze sculptures he created in 1975 (Buffet designed four in all). Two butterflies and two beetles. At the time of the painter's death, Annabel donated the sculptures to the village of Tourtour in his memory. They are the pride of the village and of this magnificent region that Bernard Buffet loved. The others two are exhibited at the Surugadaira – Bernard Buffet – museum in Japan.
The most beautiful private collections of Bernard Buffet
The artistic work of Bernard Buffet is very popular in Japan. He is the only foreign painter to whom a museum was dedicated to during his lifetime. Today, two museums preserve and exhibit works of the great French painter exclusively. Kiichiro Okano is at the origin of one of these museums. This wealthy businessman was a fervent admirer of the painter and built one of the largest private collections in the world of works of Buffet: a total of more than 2000 oil paintings, engravings, illustrations, watercolors etc.
The tragic disappearance of Bernard Buffet
In 1999, Bernard Buffet made the choice to voluntarily leave the world by taking his own life in his beloved Domaine de la Baume workshop in Tourtour. Diminished by illness, Bernard Buffet could not bear the idea of no longer being able to paint. He dedicated his life to art and the fact of being deprived of his abilities was unbearable for him. For his last exhibition, he chose the theme of death. It took place after his death.
Bernard Buffet, an exceptional painter
Bernard Buffet marked forever the expressionist painting universe by his singular imprint. His figurative painting countered abstract painting at a time where many painters had rushed into imaginary spaces to escape from social reality. Bernard Buffet created his own path and his vision led him to the heights of fame to become one of the greatest expressionist painters of his time.