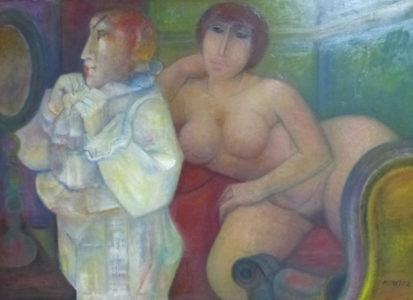 WHAT MICHEL ESTADES SAYS:
A passionate art dealer with 30 years' expertise, Michel Estades loves sharing his knowledge and enthusiasm for his favourite artists. His 4 galleries permanently exhibit many 20th and 21st-century figurative artists, including the world's greatest masters, masters from the Provencal and Lyon schools, modern and contemporary masters and a constant flow of talented new painters and sculptors.
BIOGRAPHY:
BLASCO MENTOR was born in Barcelona in 1919.
He studied at the local School of Fine Arts.
He was awarded the Silver Medal of the Academy of Fine Arts of Barcelona in 1933 and 1934. He enlisted in the Republican Army from 1936 to 1939.
He moved to Paris in 1945. Various awards mark out his career as a painter:
In 1953, he was awarded the Paris Drawing Prize and was declared out of competition the same year at the Prix de la Critique.
In 1966, he was awarded the Prix des Peintres Témoins de leur Temps for the body of his work.
In 1968, he was unanimously awarded the Mention spéciale à l'unanimité of the Prix de la Critique for a mural painting in La Courneuve.
Ambrogino d'Oro del Commune di Milano in 1974.
Seal of the City of Milan, 1976.
"…The taste of enchantment and the feeling of reality coexist in his work. Reality is knowingly being transgressed…"
Dense composition, nudes with full forms, a little heavy, bouquets of flowers pressed together, full art, rough, thick texture, there is no room for emptiness in his work.
His art is sensual without concession or artifice. The drawing is firm, without trickery, the painting limited to warm colors, and the impasto has the richness of an underside worked lovingly and brought to light.
See some examples of works by Blasco MENTOR available for sale
See the work of Modern Masters exhibited at the Estades Gallery