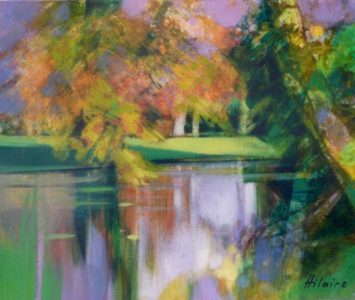 WHAT MICHEL ESTADES SAYS:
Camille Hilaire's truly remarkable oeuvre testifies to a certain respect for tradition, yet remains astonishingly free. He remained largely on the sidelines of the 20th century's various artistic rifts and continued to produce radiant paintings filled with dazzling colours.
Biography:
Camille Hilaire's childhood
Camille Hilaire was born into a family of modest means in Metz, France, where he spent his youth and studied. The young man begins his career as a house painter.
In the 1930s, he began drawing and painting. At that time, he frequented the city library to copy Hans Holbein, and especially Albrecht Dürer,
that he admired greatly.
Like the master, he acquired certainty of line and a keen sense of detail. He was also fascinated by the light emanating from the works of the great Italian painters. Jean Giono and Nicolas Untersteller noticed his work and were welcomed him in his studio in Metz. Following the mayor's invitation, he started to work in Paris, which allowed him to attend the Fine Arts Academy.
During the Second World War and the German occupation of Paris, he registered under an alias, Leblanc. At the same time, he attended André Lhote's classes and exhibited for the first time at the Salon d'Automne in 1942.
Camille Hilaire. His artistic journey
In 1947, Camille Hilaire shifted to a teaching career and began giving lectures on drawing and decorative composition at the "Ecole Nationale Supérieure d'Art de Nancy" and at the Ecole Nationale Supérieure d'Art de Paris after 1958.
He opened up to new techniques and worked on watercolor, lithography, tapestry and stained glass. In 1947, a travel grant enabled him to discover France.
It was a very productive period. Unfortunately, there are almost no paintings left, as the painter destroyed nearly everything.
In 1958, he was appointed professor of drawing at the Ecole Nationale Supérieure des Beaux-Arts in Paris. From 1964 on, he divided his time between the South of France and Normandy and sketched numerous studies on nature, which he developed in his studio. His work is oriented towards light and color.
Camille Hilaire. Inspiration from his travels
Camille Hilaire fed his talent from his travels throughout the century.
His paintings express its beauty and diversity, from Venice to Normandy, which he particularly liked.
His work is on the threshold of figuration and post-Cubism. All his life, he was able to cultivate a creative autonomy, free from the major avant-garde movements the great majority of his contemporaries were borrowing from. His work is authentic and luminous, his universe rich and colorful. Numerous monographs are devoted to him throughout the world, and he remains in the history of art as one of the painters who marked the first half of the 20th century.
Camille Hilaire has been part of the Estades permanent collection since 1990. His work is exhibited on the four sites of the Estades Gallery, in Paris, Lyon, Toulon, and Baden-Baden (Germany).
Camille Hilaire. His work's asking price
Buy or sell a work by Camille Hilaire
Would you like to buy or sell a work Camille Hilaire ? you are in the right place.
Michel Estades is an expert on the works of Camille Hilaire, a reference art expert for this artist. Buying a painting by Camille Hilaire (oil on canvas, gouache, watercolor, lithography ) at Galerie Estades guarantees the authenticity and the quality of the work.
Camille Hilaire. Art price estimate
Specifically, experts and art professionals will use several criteria to estimate an artwork.
For example, to determine the price of an oil on canvas , art experts, gallery owners, or auctioneers will examine the latest sale prices for similar works.
What are the criteria to estimate an artwork by Camille Hilaire?
Uniqueness
Condition
Signature
Size of the work
Theme
Medium
Concerning the artworks of Camille Hilaire and as an example, an oil on canvas will cost between 4,000 and 19,000 euros.
Identifying an artwork by Camille Hilaire?
To authenticate your work, you can send us a request to estades1@gmail.com.
See some examples of works by Camille HILAIRE available for sale
See the work of Modern Masters exhibited at the Estades Gallery