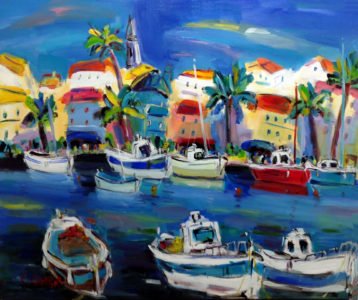 WHAT MICHEL ESTADES SAYS:
Catherine Garros, the feminine touch… Her style could aptly be resumed with the words gentleness, tranquillity, rhythm and lightness. Colour is her chosen means of expression. An alchemy of artistic talent and imagination have made her an emblem of contemporary Provencal painting.
BIOGRAPHY:
Catherine Garros always had a pencil on hand. Self-taught, she draws on any occasion. However, she did not get some academic training at the Beaux-Arts or Arts-Déco. She attended a few classes that reinforced her passion for watercolor that she executes exclusively in marine format. She started painting in oil in 1990. Little by little, she inserted characters on her canvases. It diversified her landscapes. Influenced by Raoul Dufy and Henri Matisse, she is the youngest among the prominent names of the current Ecole Provençale.
Studying her works, one immediately guesses the feminine sensitivity, her hand's precision, transmitting through each painting a real joy for life, a childlike cheerfulness, and optimism. Her paintings radiate a soft calm, a light rhythm, and a subtle palette. "Color, I need it, especially the warm ones ! " she says.
Catherine Garros is an outstanding colorist. Her luminous canvases engage us with life's simple little joys. They invite us to wander and party.
Busy fishermen, a small port where barges contemplate the boats, picturesque markets of Provence, merry-go-rounds, and carousels of yesteryear, she does not imitate or copy. However, she recreates a personal world, a poetic and original metaphor of reality.
Jean Perreau, in "Garros, la poésie du réel" – Editions Galerie Estades 1999 wrote: "For Catherine Garros, it is a question of setting up a matching game to interpret a feeling in front of a pattern, powerful enough to be shared. The little sensation, as Cezanne used to say"
The artist knows how to change into a magician.
The 3 recurring elements of her work are air, light, and color. Her composition technique may be rigid, but her style let the drawing, shape, and color take over. Her work displays a combination of structure and harmony. The honesty and spontaneity of her work made her famous.
Her audience found her quickly. Her paintings are now included in many European and American collections. Catherine Garros's work is part of our permanent collection and exhibited exclusively on the four sites of the Estades Gallery, in Paris, Lyon, Toulon, and Baden-Baden.
See some examples of works by Catherine GARROS available for sale
See the work of Masters of Provence exhibited at the Estades Gallery