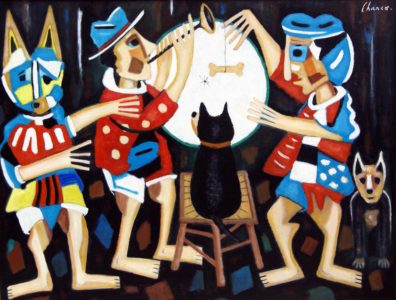 WHAT MICHEL ESTADES SAYS:
Chanco is an incredible artist. Throughout his long life, he never ceased to refine his style and explore new artistic horizons. Colour is at the heart of his multifaceted oeuvre. He marked an entire century with his unique hallmark.
Biography:
Roland Chanco. The Parisian artist
Roland Chanconnier, better known as Chanco, was born in Reignac in Indre et Loire. He died in Roquefort-les-Pins, Alpes de Haute Provence, at the age of 103. His artistic career and exceptional longevity are uncommon and very productive. He created more than 2,000 paintings and more than 600 works on paper. They are all listed in the three volumes of his catalog raisonné. Initially drawn to sculpture, he eventually opted for painting.
He settled in Paris in the 1930s and painted downtown Montmartre. The rue de Norvins and the Moulin de la Galette were his favorite places of inspiration.
He mingled with the Butte artists and met Gen-Paul, Utrillo, Heuze, Picasso, and discovered sculpture at Marcel Gimond's studio.
Roland Chanco is an outstanding colorist who expresses his artistic talent through several styles, from post-cubism to expressionism. In 1947 he left Paris for the South of France.
Roland Chanco. The "Dark Period"
In Antibes, Chanco met Picasso again and began to interact with artistic and intellectual personalities, including Prévert, Cocteau, Eluard, Léger, and Miro. His style evolved gradually towards his "black period," and he painted dark-colored pastel-like characters, surrounded or evolving on a black or very dark background.
On the one hand, he cultivates a specific non-conformism original. On the other hand, the Provençal landscapes, his many watercolors, gouaches, oil paintings, and pastels suggest a very different person. In 1951, in the ceramist and friend Pierre Lebasque' studio, Roland Chanco created ceramics with Chagall.
Then he started to experiment with abstract art. In 1960, led by a craving for renewal, he took the unbelievable decision to destroy almost all of his pictorial production since his Montmartre period.
Roland Chanco. The Color Kaleidoscope
After this self-imposed loss, Roland Chanco discovered an original technique referring to the principles of multiple mirrors. He called it his kaleidoscope period.
"It was while looking through a kaleidoscope that the idea came to me to transform clusters of colors into pictorial compositions," he confided.
His clown-like characters stand out from the surface in thick impasto.
His expressionistic compositions reveal a powerful imagination. His highly constructed still life creations are saturated from an overabundance of elements.
The violent colors underline the grim, always asymmetrical, hiding faces that are devouring the body. Endlessly, Roland Chanco used the same theme, reinventing each time the same subject.
His original and deeply human work is part of the Estades Gallery's permanent collection since 1995 and on exclusive display at the four locations of the Estades Gallery, in Paris, Lyon, Toulon, and Baden-Baden.
Roland Chanco. His artwork's price
Roland Chanco. Price range
It is not easy to determine the value of an artwork made by a contemporary artist like Ronald Chanco.
Many criteria need to be considered.
The first is the artist's medium, painting, sculpture, drawing, or lithography.
In art, there are as many artists as mediums.
Price ranges can also be a surprise. In some cases, the work of an artist like Roland Chanco can range from a few hundred euros to several thousand euros, if not more.
Art lovers, collectors, buyers, or investors find themselves somewhat bewildered by such price differences. How can it be justified?
Finally, how much does the work a contemporary artist like Roland Chanco cost?
In art, the points of reference are as follow: the artist's notoriety, his impact in art history, his boldness, creativity, inventiveness, the recognition of his peers, art experts, gallery owners, specialized cultural institutions, the value of his work in reputable auctions, the rareness of his works, the creation date, the material and medium.
Roland Chanco. Work estimated value
To determine the price of a painting, watercolor, or gouache by Roland Chanco, art experts, gallery owners, or auctioneers use a set of criteria and study the latest selling price for similar work.
Well-defined criteria help assess and estimate a work by an artist such as Roland Chanco:
– Work dimension. Indeed, and it seems logical, the larger the work, the more expensive it. It explains why small works such as lithographs are more affordable. So-called "monumental" sculptures can be very expensive.
– Theme. Some artists have a favorite theme that contributes to their artistic identity. They will be more sought after by buyers.
– Medium. For example, oil on canvas is more expensive than print or paper. For sculpture, the price of artwork varies depending on the material, wood, bronze, glass. The cost of raw material has a noticeable impact.
Its scarcity. Is it a work unique in the course of the artist's career? Is it multiple, or does it belong to a series?
– Condition.
– Signature. Has the artist signed the work?
These are some of the criteria helping define the work's evaluation and the price at which it is likely to be sold. For example, an oil on canvas by Roland Chanco can sell between €2,000 and €14,000.
Roland Chanco. Authentification
If you own an artwork signed by Roland Chanco, you should know that his signature is a key element to authenticate the work.
However, a word of caution. An artist's signature alone is not a guarantee of authenticity. Like works of art, artists' signatures are easily replicated.
Many artists, such as Roland Chanco, are victims of forgeries. Thus, a certificate of authenticity is needed to sell the work on the art market and get the best price for it. Ideally, the artist's expert or a professional gallery owner should sign this certificate of authenticity.
Roland Chanco. Buy or sell the artist work
If you want to buy or sell work by Roland Chanco, there are several options.
Auction sales are valued because they bring you the opportunity to get artworks at a competitive price. They can also be an opportunity to buy lots and series. However, this process requires a serious commitment on your part.
Private sales between individuals allow for a more muted and confidential transaction.
Gallery owners and real art experts are here to guide you. Their expertise and tailor-made advice will help you complete this rare purchase.
The Estades Gallery gives you the opportunity to acquire Chanco's major works, whether oil, gouache, watercolor or pastel. Beyond buying and selling art, the Estades gallery offers you its best advice and guides you in your art investment, whether you are an enthusiastic amateur or a dedicated collector.
See some examples of works by CHANCO available for sale
See the work of Modern Masters exhibited at the Estades Gallery