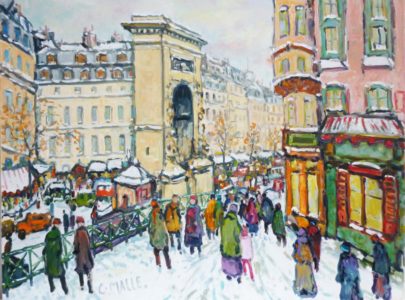 WHAT MICHEL ESTADES SAYS:
If we had to sum up the work of Charles Malle in a word, it would be "nostalgia" – but constructive nostalgia that prompts us to reflect on the present day. Memories are an endless source of inspiration for this artist, who has made them his playground.
When asked "Where do you find your inspiration?" he replies, "I can get inspiration from an old document, but when I paint, I always add a personal touch: for example, I might use a horse and cart to depict me with my mother or wife…"
BIOGRAPHY:
Born in Douai in northern France, Charles Malle was raised in a modest family of artisans and miners. As a child growing up during the Occupation, he was profoundly affected by this difficult period, yet nevertheless remembered it as a happy time paced by the seasons. The death of his father in 1950 marked a brutal end to his childhood and the beginning of his passion for drawing. He was initially sent to the Belgian Ecole des Beaux-Arts (School of Fine Arts) in Saint-Luc-de-Tournai, where he discovered the treasures of Flemish art and, in particular, the paintings of snowy landscapes and tiny figures that went on to influence him greatly. Unsurprisingly, he was drawn to the world of Bruegel. He then went on to study visual arts at the Ecole Nationale Supérieure des Arts et Industries Textiles in Roubaix, from which he graduated with honours in 1956.
Malle initially dedicated himself to teaching, then went on to sell ancient furniture, spurred by his passion for the history of art and antiques. However, he continued to draw and paint. His canvasses sold well, but remained within a small circle of art buffs. Little by little, his notoriety grew. Charles Malle has been represented by Michel Estades since 1994 and is exclusively and permanently shown at the Galeries Estades galleries in Paris, Lyon, Toulon and Baden-Baden (Germany). His works are widely found on the art market and in auction houses in France and abroad, in particular Christie's in London.
Charles Malle is an eternal dreamer often compared to Albert Marquet. Instead of portraying the reality all around us, he prefers to depict the privileged period of childhood. The artist loves to evoke his wonderment when, as a child, he saw the sea in Normandy for the first time. The war deprived him of the seaside but allowed him to discover the French capital and Paris went on to become one of his obsessions. "I think I have remained a teenager enchanted by life. Painting isn't a refuge for me, but an opportunity to sing the praises of past and present existence. My memories are a source of wonderment. They embellish my daily life when I portray them in my work." (From Jean Perreau's book "Charles Malle, une saveur d'éternité").
See some examples of works by Charles MALLE available for sale
See the work of Modern Masters exhibited at the Estades Gallery