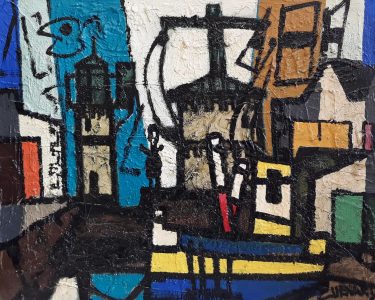 WHAT MICHEL ESTADES SAYS:
Claude Venard is a post-Cubist style artist who embraces life and paints his canvasses in a spirit of creative happiness. He enjoys playing with the chromatic qualities of his palette and indulging in the sheer pleasure of working the paint. His powerful works are redolent with bright colours.
Biography:
Claude Venard. His Parisian youth
Claude Venard was born in Paris in a family originally from Burgundy.
At the age of 17 he decided to become a painter. He spent a brief 2 days at the École des Beaux-Arts and finally preferred to study by himself.
In the mid-1930s, he honed his artistic skill by restoring paintings with a master restorer at the Louvre Museum. From 1935 onwards, he participated in exhibitions devoted to modern art throughout the world, notably in Paris.
In 1936, he took part in a group exhibit of the "Forces Nouvelles", a new artistic movement to which Pierre Tal-Coat and André Marchand belonged. The movement originated in the "avant-garde" and urged a return to strict and traditional craftsmanship principles. Claude Venard eventually rebelled against it. The strict discipline of the "Forces Nouvelles" group no longer suited him. He developed his signature post-Cubist style, roughly applying his colors with a palette knife and creating a "raw" core of geometric shapes.
Claude Venard. Post-Cubism painter
Initially, Claude Venard made his way, picking his elders' research as primitive painters did. He took a close interest in Gustave Courbet, Paul Cézanne, and constructivism, before moving towards post-Cubism, to which he remained faithful.
However, his painting evolved. He gradually accentuated his palette's chroma, and used the rawest tones in a very thick paste, often applied with a knife. Lover of life, perhaps his ambition was to achieve art that could be drunk and eaten. During the 1950s, his paintings became more abstract. "I don't mean to say that ugliness is the greatest of virtues, but a work of art must be powerful, without the use of wanton tricks. »
Claude Venard style
Claude Venard was easily enthused and deeply absorbed what he admired with an undeniable ruthlessness. Inquisitive, he often changed models, while keeping his distinctive angular style. His career included personal exhibitions in Paris, London, New York, Philadelphia, Chicago, Düsseldorf, Munich, Buenos Aires, and Tokyo. His work is in various permanent collections, including the Musée d'Art moderne de la Ville de Paris, the Tate Gallery in London, the Met in New York, and the Tokyo Museum. Since 2005, Claude Venard's work is part of the Estade Gallery's permanent collection and exhibited on the four locations of the Estades Gallery, in Paris, Lyon, Toulon, and Baden-Baden.
Claude Venard. His artwork price
You want to buy or sell a work by Claude Venard?
Would you like to buy or sell a work Claude Venard ? you are in the right place.
Michel Estades is an expert on the works of Claude Venard, a reference art expert for this artist. Buying an oil on canvas by Claude Venard at Galerie Estades guarantees the authenticity and the quality of the work.
Claude Venard. Estimated value
For example, an oil on canvas by Claude Venard sells between €6,000 and €45,000.
Claude Venard. The authentification of his work
To authenticate your work, you can send us a request to estades1@gmail.com.
See some examples of works by Claude VENARD available for sale
See the work of Modern Masters exhibited at the Estades Gallery