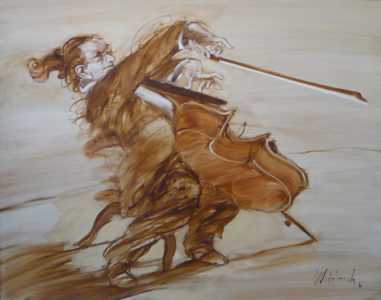 WHAT MICHEL ESTADES SAYS:
A passionate art dealer with 30 years' expertise, Michel Estades loves sharing his knowledge and enthusiasm for his favourite artists. His 4 galleries permanently exhibit many 20th and 21st-century figurative artists, including the world's greatest masters, masters from the Provencal and Lyon schools, modern and contemporary masters and a constant flow of talented new painters and sculptors.
BIOGRAPHY:
Claude WEISBUCH was born on February 8, 1927, in Thionville (Moselle) and died on April 13, 2014.
He studied at the Ecole des Beaux-arts in Nancy. Upon graduation, Weisbuch was appointed engraving instructor at the School of Fine Arts in Saint-Etienne.
After a modest beginning, he succeeded in making a name for himself. In 1961. he was awarded the Critics' Prize.
His work is primarily dedicated to engraving. He likes to translate into lines the life, motion, and inner quality of his subjects: bunnies, harlequins, musicians, and equestrian scenes.
Claude Weisbuch is also a painter and draughtsman.
His favorite colors are ochre, brown, and white. He uses them to introduce light in compositions where lines and the drawing's finesse preserve the life found in his engravings.
His precise and dynamic technique produced work all in movement and swirls on themes he loved: theatre, opera, equestrian circles, musicians, and numerous portraits.
His works may look like unfinished sketches, mixing only a few colors at the time, but his lines always convey the line's unbelievable liveliness.
Claude WEISBUCH received the title of living god from the Emperor of Japan.
His work is on display in numerous museums.
See some examples of works by Claude WEISBUCH available for sale
See the work of Modern Masters exhibited at the Estades Gallery