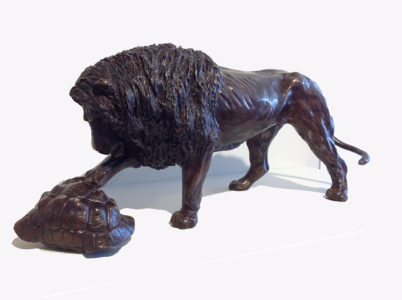 WHAT MICHEL ESTADES SAYS:
Damien Colcombet's perfectly precise and pertinent works rapidly earned him a place on the podium of French animal artists. In a recent article, the art magazine La Gazette Drouot distinguished him as one of today's best animal sculptors.
Biography:
Damien Colombet's origin
Originally from Rennes, Damien Colcombet became a Lyonnais by adoption. His career path is unusual. Drawn to nature from an early age, he followed his father, an agricultural engineer, to farms and liked animals. After studying at Sciences Po, he joined a large international auditing firm, discovered animal sculpture, and ended up dedicating himself exclusively to art.
Thanks to his attention to detail, he reproduces the morphology and poses of his models with incredible realism. In the tradition of the great sculptors of the 19th century, he works with an artisan to apply unique patina on his bronzes. The result is surprising: his horses, cows, bison, and large African animals look alive. "I'm particularly attached to animals that are a little and unloved," he says, "animals that nature has made less friendly, such as cassowaries, walruses, gnus. In some way, I admire their courage".
Damien Colombet. How is work is being received
Quickly spotted by the Estades Gallery, Damien Colcombet's work is regularly exhibited in the Gallery four locations, in Paris, Lyon, Toulon, and Baden-Baden.
He counts Alain Delon among his most enthusiastic collectors. His work received awards on numerous occasions. He was awarded the prestigious Edouard-Marcel Sandoz prize in November 2013 at the Salon des Artistes Animaliers in Bry-sur-Marne. An exhibition was dedicated to him in June 2014 in Brussels. In November 2015, he was awarded a bronze medal at the Salon des Artistes Français in Paris. On 23 September 2017, his monumental sculpture, "Giraffe et Girafon," was inaugurated at the Parc de la Tête d'Or zoo in Lyon. Galerie Estades was a sponsor for this project acknowledging the work of this artist, whose talent was recognized from the very beginning when it organized his first solo exhibit in 2009.
Damien Colombet. His technique
Damien Colcombet is a self-taught enthusiast who completed his training by taking sculpture classes in an art studio in Lyon.
He particularly appreciates great animal artists such as Barye, Frémiet, Rosa, and Isidore Bonheur. When he sculpts, he does not use a model and has a precise vision of the animal he memorized in his readings and visits to zoos and African reserves. Sometimes, he uses pictures of animals to refine a few details, such as a look or an ear's position. Damien himself secures the finishing touch of each piece and closely supervises the patina process. His bronzes, done in lost-wax, are limited to 12 copies.
Damien Colcombet. Price of his work
How much is a work by Damien Colcombet worth?
The worth of Damien Colcombet's work depends on many variables.
His medium is the first thing to consider
The price range can also be a surprise. In some cases, the work of an artist can range from a few hundred euros to several thousand euros.
Art lovers, collectors, regular buyers, or investors are then often startled by such price difference. Is it justified?
Finally, what is the price of a work by Damien Colcombet?
To assess an artwork, one must use some criteria: the artist notoriety his impact in art history, his originality, creativity, inventiveness, his recognition by his peers, by art experts, gallery owners, specialized cultural institutions, reputable auction houses, the uniqueness of the work, the creation date – some periods of an artist's career are more valuable than others, the medium, and technique, etc.
Damien Colcombet. How to authenticate his work?
To authenticate your work, you can send us a request to estades1@gmail.com.
Damien Colcombet. Work appraisal
To determine the price of a bronze by Damien Colcombet, art experts, gallerists or auctioneers will use various criteria and the latest selling prices of similar work.
For example, a bronze sculpture by Damien Colcombet sells between €1,500 and €35,000.
Damien Colcombet. Buy or sell his work
Would you like to buy or sell a work Damien Colcombet ? you are in the right place.
Michel Estades is an expert on the works of Damien Colcombet, a reference art expert for this artist. Buying a sculpture by Damien Colcombet at Galerie Estades guarantees the authenticity and the quality of the work.
See some examples of works by Damien COLCOMBET available for sale
See the work of Sculptors and Monumental Art exhibited at the Estades Gallery