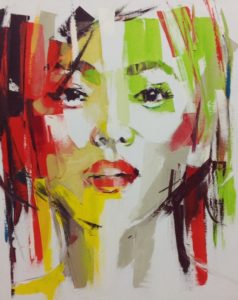 WHAT MICHEL ESTADES SAYS:
Elisabeth Besnier paints easily-identifiable portraits of women using exceptional colour combinations. Her paintings are warm and light-filled, with expressive faces and flawless bodies wrapped in beautiful drapes. Pure feminine emotion.
BIOGRAPHY:
Born in Romans-sur-Isère, in the Drôme, Elisabeth Besnier was attracted to art from a very young age. As a young adult, having just settled in Normandy, she attended a clay workshop, attracted both by the sensual side and the magic of enamel color blending. One day, a friend gave her a box of watercolors, a brush, and a pad of paper for her birthday. It was an immediate revelation. To perfect her skills, she soon joined a painting workshop in Elbeuf, run by Régis Bouffay. Afterward, she preferred the smoothness of oil for her portraits and acrylic for her outdoor landscapes. Teacher by profession, Elisabeth Besnier is above all a painter by passion. Always figurative, she now works with a knife. Bold and sensual, she most often represents womanhood and femininity in luminous strokes.
She defines painting as a sensitive expression, magnified by the play of composition and colors. She captures figures and the expressions of faces, on large linen canvases and makes silhouettes appear in a crowd.
Humans are central elements of her paintings. Above all, she paints the emotion she feels in front of her subject. Elisabeth Besnier received many awards, notably a bronze medal in 2012, and a silver medal in 2014 at the Salon des Artistes Français in Paris.
Her work has been part of the Estades Gallery's permanent collection since 2015 and is on display in the four locations of the Estades Gallery, in Paris, Lyon, Toulon, and Baden-Baden.
Elisabeth Besnier says: "A female feature often touches me. It triggers in me the desire to paint".
She perfectly reproduces the emotion of a face. She uses a unique technique to achieve her compositions. Initially, Her models are photographed or filmed. Setting aside a selection that she let simmer from a few days to several months. Elisabeth needs to understand what would be appealing to the painter to restore or even sublimate her subject.
The quality of her drawing and the exacting process of the photo sessions make her subjects appear in streams of color.
See some examples of works by Elisabeth BESNIER available for sale
See the work of Contemporary Masters exhibited at the Estades Gallery