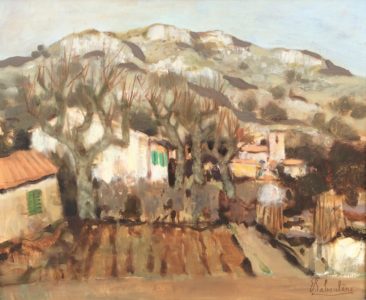 WHAT MICHEL ESTADES SAYS:
Eugène Baboulène is undoubtedly Provence's most iconic painter. Qualified as the "most pensive figurative artist", he has left a poetic legacy behind him, instilled with his innate observation skills. His paintings are cradled by the warm and simple atmosphere of his Provencal home.
Biography:
From decoration to painting
French figurative painter and lithographer, Eugène Louis Baboulène was born in Toulon on 18 August 1905. Eugène Baboulène is an emblematic figure of the South of France and a major master of the post-war School of Toulon. As a child, drawing proved to be a real passion. After attending the Toulon School of Fine Arts, he took some classes with Pierre Laurent at the Ecole Nationale Supérieure des Beaux-Arts. He enrolled at the Ecole Nationale Supérieure des Arts Décoratifs. Eugène returned to Toulon in 1931 and made a living from his work as a decorator, which he carried out notably in brothels and the city's theatres. He taught decorative art at the Toulon School of Fine Arts in 1936. He also painted with no real success.
In 1946, his meetings with the great Catalan painters Antoni Clavé and Antoni Tàpies were decisive for the rest of his art career. He followed their advice, left decoration, and dedicated himself solely to painting. From then on, his art finally revealed itself, and his paintings begin to be sought after.
For the love of painting
From 1950 onwards, Eugène Baboulène was present at all critical artistic events. His talent was recognized and rewarded by the most coveted prizes in places like the Menton Biennale (1957). Many exhibitions have been dedicated to him in France in Paris, Nice, Rouen, Nantes, Strasbourg, Le Havre, Bordeaux, and Lyon. Abroad, he exhibited in Malmö, London, Oran, Geneva, New York, Berlin, Tokyo, and Madrid. He was elected member of the Académie du Var in 1979.
As a painter, designer, and lithographer, he is particularly fond of seascapes, still lifes, and Provençal landscapes. It reminds him of Toulon's city, dear to his heart. The handling of colors, imbued of finesse and delicacy, has made the Toulon painter an emblematic figure of the Provençal school. This aspect, of infinite gentleness and harmony, permeated his works and paintings. It seduced Michel Estades and led him to exhibit his canvases in his gallery. As a fishing enthusiast, he has been able to translate this universe in the many seascapes representing the beauty of the sea by his native city.
The Baboulène style: Colors of Provence
Undoubtedly, Eugène Baboulène knew how to promote his trademark, the Baboulène style. It became a reference in the French art world. He drew inspiration from the dazzling Provence that he loved so much and enjoyed exploring with his wife, Marthe. His subtle observation of the surroundings permeates his works in harmonious warm colors.
He used a wide range of pastel tone colors that he worked in motifs of a soothing simplicity.
His work is appreciated and recognized both in France and abroad, in particular in Japan.
A square and a house in the city now bear his name. It is a testament to the local admiration of Toulon's inhabitants. Very productive, Eugène Baboulène left an important body of work.
A selection of his most beautiful paintings is part of the Estades Gallery's permanent collection. It has been exhibited since 1990 on the Gallery four locations in Paris, Lyon, Toulon, and Baden-Baden.
Eugène Baboulène. Price of the artist's work
Eugène Baboulène's value
It is not evident to understand how a work by artist Eugène Baboulène is evaluated, and how the price changes, regardless of the medium, painting, sculpture, drawing, or lithography.
The price range of artwork can sometimes reach millions of euros, depending on the artist and the medium. It is true for Eugène Baboulène. A collector or an art buyer can be startled by such price differences.
So how do you explain the price of an artist like Eugène Baboulène? It all depends on the artist notoriety his impact in art history, his originality, creativity, inventiveness. It also depends on his recognition by his peers, art experts, gallery owners, specialized cultural institutions, reputable auction houses, and the uniqueness of the work, the creation date – some periods of an artist's career are more valuable than others, the medium and technique, etc.
An oil on canvas by Eugène Baboulène can sell between €3,000 and €12,000
Eugène Baboulène. Estimation of his work
To estimate the value of an oil on canvas by Eugène Baboulène, art experts or auctioneers will use well-defined criteria and study the latest selling prices for similar works.
They will consider a set of precise criteria, such as the dimensions of the work. Logically, the larger the work, the more expensive it is. It explains why smaller works such as lithographs are more affordable, its theme, the medium – for example, oil on canvas is more expensive than print, its uniqueness, its condition, if the artists signed it or not.
These are some of the criteria defining the price of an artwork and how much it can sell.
Eugène Baboulène. Buy or sell his work
Would you like to buy or sell a work Eugène Baboulène ? you are in the right place.
Michel Estades is the expert on the works of Eugène Baboulène, a reference art expert for this artist. Buying a painting by Eugène Baboulène (oil on canvas, gouache ) at Galerie Estades guarantees the authenticity and the quality of the work.
Eugène Baboulène. Authentification
To authenticate your work, you can send us a request to estades1@gmail.com.
See some examples of works by Eugène BABOULENE available for sale
See the work of Masters of Provence exhibited at the Estades Gallery