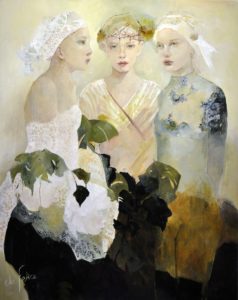 WHAT MICHEL ESTADES SAYS:
A passionate art dealer with 30 years' expertise, Michel Estades loves sharing his knowledge and enthusiasm for his favourite artists. His 4 galleries permanently exhibit many 20th and 21st-century figurative artists, including the world's greatest masters, masters from the Provencal and Lyon schools, modern and contemporary masters and a constant flow of talented new painters and sculptors.
BIOGRAPHY:
Françoise de Felice is of Italian descent through her father. She was born in Paris and spent her first 20 years there. As a young girl, she was introduced to graphic art by her grandmother, who had attended an advertising workshop during the time of Fernand Leger and the Chat Noir cabaret. Concurrently, she studied at the Sorbonne and audited the school of Beaux-Arts.
Françoise's first work was impressionist in style, until 1982. Then she left France and settled in Sicily. She was no longer satisfied with the French impressionism style. She developed her personality off the beaten track and created her unique signature. She began to sketch the splendor of Sicilian baroque and the light of the island, in fluid shapes and fine but precise lines.
Her style was born of randomness and will. She turned her painting into an introspective story, as a way of self-analysis. After many trips back and forth between the Mediterranean and France, she settled near Paris in and from her studio, organized a series of international exhibitions in places such as Caracas Padua, Rome, London, Paris, and Geneva.
One could describe her work as a story on femininity, soft, and melancholic. Like in a hologram, we fall into a subliminal and poetic labyrinth. Ambiguities are played out in a complex world where she fights her demons. Nothing is perfectly serene in Françoise's canvas. Hidden streaks of colors and drips reveal a break with the continuity of the dream or the aborted tale. A figure is followed by her double, a green woman poses and glare suspiciously or inquisitively at a group standing there, doing nothing, waiting, or meditating until they disappear as women to symbolize the androgynous nature of our being.
Starting from distinctly female subjects, we are starting to apprehend intimate echoes of the subconscious. Birds or other animals lose their gender and embody symbols found in mythology or stories molded in the collective unconscious. Defining a work's central theme is a multi-dimensional challenge. Beauty feeds her universe, not just beauty for the eyes but also, and above all, beauty for the soul. The artist offers us a singular unique respite in today's contrasting art environment.
Technique and inspiration
Françoise de Felice uses gold leaf in her work and does watercolor as well.
She creates her own mythology. The women she brings out are emerging from the past and make us travel through time. Her work creates connections to various cultural references, such as roses from Tiepolo, Vermeer's lights, faces from the Renaissance, and lately, old black and white colored photos.
See some examples of works by Françoise DE FELICE available for sale
See the work of Modern Masters exhibited at the Estades Gallery